New Partnership: Construction Industry Alliance for Suicide Prevention
CIASP Partners with BuildWitt to Help Solve Workforce Issues in the Dirt World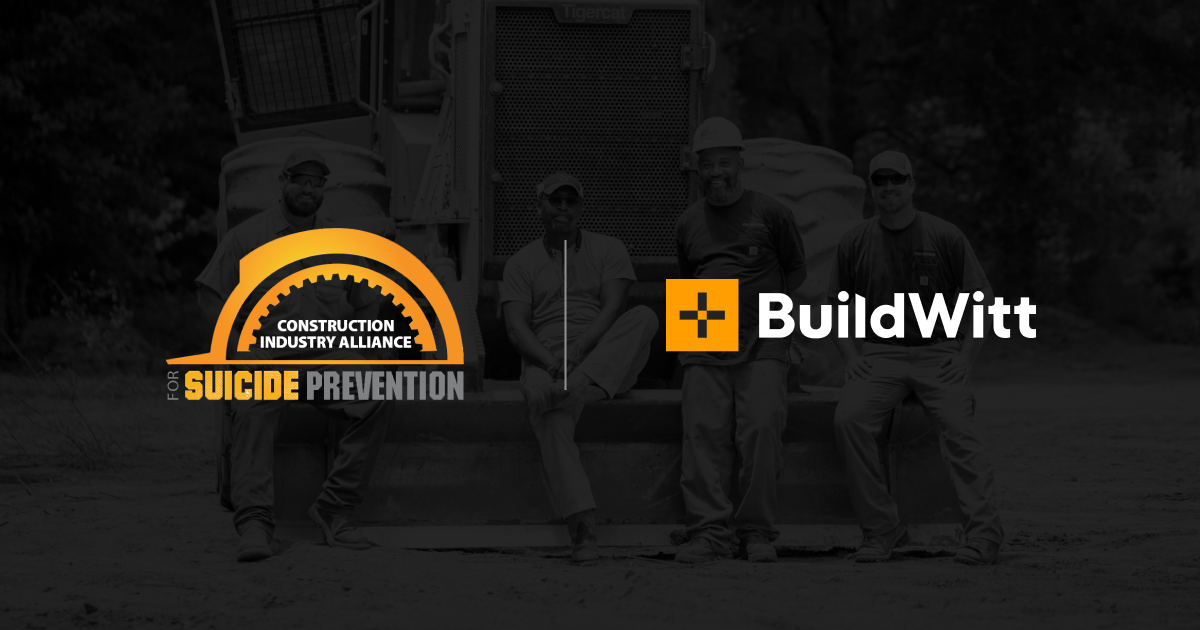 NASHVILLE, TN - CIASP (Construction Industry Alliance for Suicide Prevention), joins BuildWitt to help solve the workforce issues the construction industry is facing. With a dwindling recruiting pool, companies can't keep crews fully staffed to meet demands, and mental health is an area of concern when it comes to people in the industry.
The two companies will combine their resources to raise awareness about the issue and help companies access solutions to meet their specific needs.
CIASP exists to save lives by eliminating suicide in the construction industry.
"CIASP's goal is to reach the entire industry and bring awareness to the need for companies to make mental health and suicide prevention part of their health and safety program. BuildWitt's mission to make the Dirt World a better place aligns with our mission to make the industry a safer place, and we appreciate the opportunity to make our educational materials available to more people through the [BuildWitt] training app," says Michelle Walker, Founding Chairman of CIASP.

Since 2018, BuildWitt has been addressing common workforce problems by providing media and marketing services to companies in the Dirt World (i.e., infrastructure, earthmoving, utilities, site work, demolition, mining, materials, heavy equipment dealers, and supporting vendors). In 2022, BuildWitt launched a training platform with over 400 microlessons. The company's next step is establishing partnerships with other organizations driven by the same mission.
"I heard Michelle Walker speak a few years ago, and I was literally blown away by the impact that mental health and suicide has on our industry," says BuildWitt President Dan Briscoe. About CIASP's impact, he adds, "We can't make the Dirt World a better place without addressing these issues, and partnering with CIASP is the right way to do it. Of all the partners that are joining BuildWitt to help improve training in the industry, this one has the potential to have the largest impact."
BuildWitt has identified six primary causes for the workforce shortage: aging workforce, individuals choosing college instead of trades, record demand for infrastructure, fierce competition for workers from other industries, poor perception of blue-collar work, and different mindsets and desires among today's younger generation.

The company will strategize with each new partnership to address one or more of the specific root causes of the workforce shortage.
"We don't claim to have all the answers or solutions. What's missing isn't an effort or intent to solve the workforce problem—instead, it's a cohesive effort," says Aaron Witt, CEO of BuildWitt.
Learn more about what it takes to become a BuildWitt Partner.
About BuildWitt
Founded by Aaron Witt, BuildWitt began building a better Dirt World in 2018 by giving people in the construction and heavy civil industries a voice online through photography and storytelling. Today, BuildWitt helps the industry thrive through software and services that empower companies to train and serve their teams, grow their businesses, and showcase their brands. Headquartered in Nashville, TN, the team has grown to over 75 people committed to making the Dirt World a better place. Learn more at BuildWitt.com.
For more information, contact: Skyler Moss, CRO, skyler.moss@buildwitt.com