New Partnership with Mobile Track Solutions
Mobile Track Solutions joins BuildWitt to Help Solve Workforce Issues in the Dirt World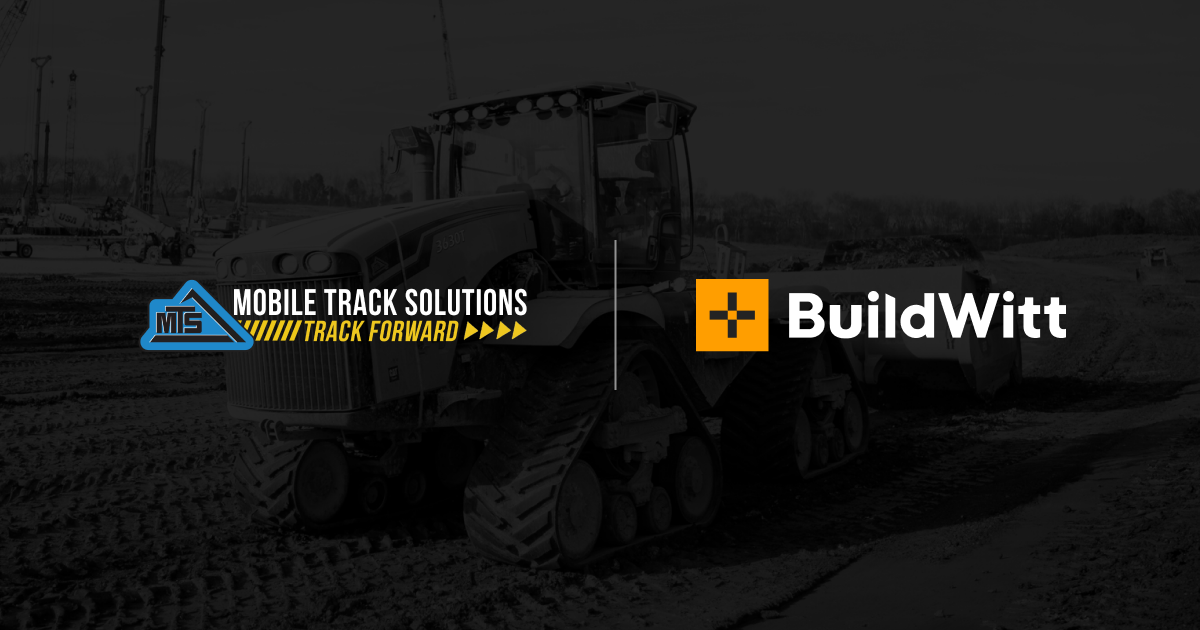 NASHVILLE, TN - Mobile Track Solutions joins BuildWitt to help solve the workforce issues the construction industry is facing. With a dwindling recruiting pool, companies can't keep crews fully staffed to meet demands, and the problem is only growing with time.
The two companies will combine their resources to bring awareness to the issue and help companies access solutions to meet their specific needs.
Mobile Track Solutions is a construction-grade equipment manufacturer in Northeast Iowa. Their products are sold primarily through Caterpillar dealers, can be found worldwide, and are designed to be long-lasting and agile to meet any real-world conditions. They've set their focus on how much dirt our machines can move each second rather than hours, days, or even months.
"For us, partnering with BuildWitt was an easy decision. As a family-owned company that takes pride in providing an exceptional experience to all who encounter our brand and the earthmoving industry in general, it was clear that they too had the same goals in mind. We strive to educate the industry and provide innovative solutions to contractors of all types, which is why we are excited to continue to build on our partnership with BuildWitt to make the Dirt World a better place," says Taylor Bockenstedt, Marketing Director at Mobile Track Solutions.
Since 2018, BuildWitt has been addressing common workforce problems by providing media and marketing services to companies in the Dirt World (i.e., infrastructure, earthmoving, utilities, site work, demolition, mining, materials, heavy equipment dealers, and supporting vendors). In 2022, BuildWitt launched a training platform with over 400 microlessons. The company's next step is establishing partnerships with other organizations driven by the same mission.
"Many of our customers use Mobile Track Solutions to improve how they move dirt, so this was an easy partnership for us. The icing on the cake was MTS's value on training and customer service for their customers and dealers. We expect to create some great training together on using scrapers and how to efficiently move dirt," says Dan Briscoe, President of BuildWitt.
BuildWitt has identified six primary causes for the workforce shortage: aging workforce; individuals choosing college instead of trades; record demand for infrastructure; fierce competition for workers from other industries; poor perception of blue-collar work; and different mindsets and desires among today's younger generation.

The company will strategize with each new partnership to address one or more of the specific root causes of the workforce shortage.
"We don't claim to have all the answers or solutions. What's missing isn't an effort or intent to solve the workforce problem—instead, it's a cohesive effort," says Aaron Witt, CEO of BuildWitt.

Learn more about what it takes to become a BuildWitt Partner.
About BuildWitt
Founded by Aaron Witt, BuildWitt began building a better Dirt World in 2018 by giving people in the construction and heavy civil industries a voice online through photography and storytelling. Today, BuildWitt helps the industry thrive through software and services that empower companies to train and serve their teams, grow their businesses, and showcase their brands. Headquartered in Nashville, TN, the team has grown to over 75 people committed to making the Dirt World a better place. Learn more at BuildWitt.com.
For more information, contact: Skyler Moss, CRO, skyler.moss@buildwitt.com