New Partnership with Pacific GeoSource
Pacific GeoSource Partners with BuildWitt to Help Solve Workforce Issues in the Dirt World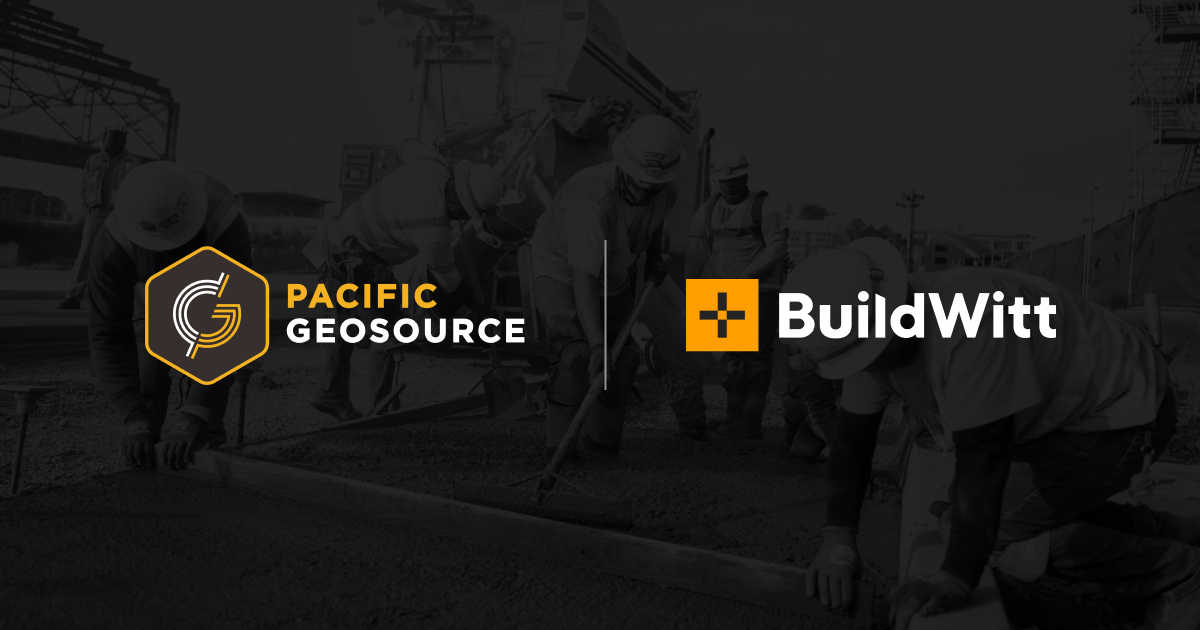 NASHVILLE, TN - Pacific GeoSource of Oregon joins BuildWitt to help solve the workforce issues the construction industry is facing. With a dwindling recruiting pool, companies can't keep crews fully staffed to meet demands, and the problem is only growing with time.
The two companies will combine their resources to bring awareness to the issue and help companies access solutions to meet their specific needs.
Pacific GeoSource (PGS) is the industry leader in developing longer-lasting, more cost-effective pavements. PGS stands at the forefront of innovation and value-engineering, providing pavement solutions that save time, money and enhance pavement performance.
According to Mike Frey, President of PGS, "Partnering with BuildWitt was a no-brainer for PGS. Buildwitt's dedication to improving and pushing this industry aligns perfectly with PGS's mission of building a better, more sustainable future."
Frey goes on to explain how BuildWitt and PGS share a mission to better the Dirt World:
"The vision for PGS has always been to provide the best pavement solutions; our team's diverse set of professional backgrounds have been instrumental in making that happen.

We have hired industrial engineers who encourage and keep process improvement at the top of mind, Professional Engineers who challenge the traditional, and veterans who bring accountability and pride into everything we do. Investing in others and creating a team with well-rounded expertise has allowed PGS to grow into the company it is today. Pavements come from all over the place and are more than just the roads we drive on, they are the Ports and Intermodal yards that transport our goods, they are the access roads to the trees that build our homes, and runways that land our airplanes safely." -Mike Frey, President PGS

Since 2018, BuildWitt has been addressing common workforce problems by providing media and marketing services to companies in the Dirt World (i.e., infrastructure, earthmoving, utilities, site work, demolition, mining, materials, heavy equipment dealers, and supporting vendors). In 2022, BuildWitt launched a training platform with over 400 micro-lessons. The company's next step is establishing partnerships with other organizations driven by the same mission.
"When we built our training platform, we knew we didn't have the expertise to teach all of the subjects the industry needs. But we knew we could find them. Mike Frey and the team at PGS were exactly what we envisioned…experts in their field who love to teach and have a passion to better the industry. We can't wait to partner with PGS on better training content for the paving world," says Dan Briscoe, President at BuildWitt.
BuildWitt has identified six primary causes for the workforce shortage: aging workforce; individuals choosing college instead of trades; record demand for infrastructure; fierce competition for workers from other industries; poor perception of blue-collar work; and different mindsets and desires among today's younger generation.

The company will strategize with each new partnership to address one or more of the specific root causes of the workforce shortage.
"We don't claim to have all the answers or solutions. What's missing isn't an effort or intent to solve the workforce problem—instead, it's a cohesive effort," says Aaron Witt, CEO of BuildWitt.

Learn more about what it takes to become a BuildWitt Partner.
About BuildWitt
Founded by Aaron Witt, BuildWitt began building a better Dirt World in 2018 by giving people in the construction and heavy civil industries a voice online through photography and storytelling. Today, BuildWitt helps the industry thrive through software and services that empower companies to train and serve their teams, grow their businesses, and showcase their brands. Headquartered in Nashville, TN, the team has grown to over 75 people committed to making the Dirt World a better place. Learn more at BuildWitt.com.
For more information, contact: Skyler Moss, CRO, skyler.moss@buildwitt.com