BuildWitt Training vs. MindForge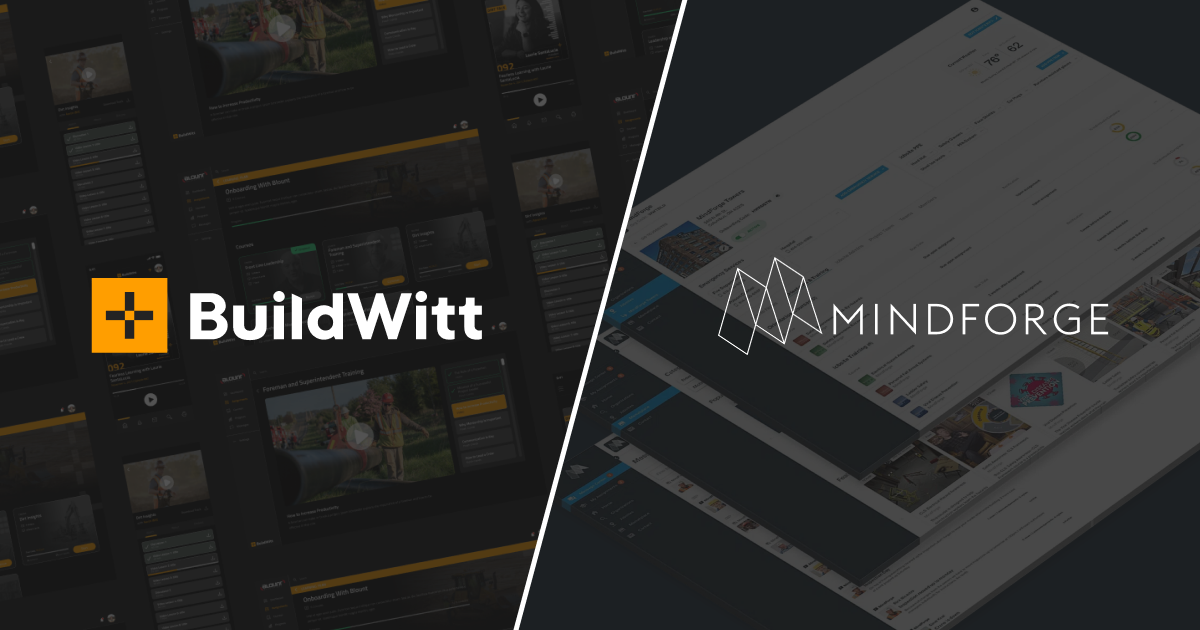 Table of Contents:


In the Dirt World, you need software solutions that help the people who are out moving dirt and making things happen.
BuildWitt Training and MindForge are two of those solutions. But how do you decide which is right for you?
With a side-by-side comparison.
Now, we know comparing ourselves to MindForge is weird. You may be thinking, Won't BuildWitt just say their product is better?
Not necessarily. We want to help you make the best choice for your people—whether that's BuildWitt Training, MindForge, or both. So we'll walk you through an honest comparison of the software and how it can help you.
Let's do this!
What are BuildWitt Training and MindForge?
BuildWitt Training and MindForge are software designed to help heavy civil, construction, mining, and other Dirt World workers in the field and office.
BuildWitt Training is training software that helps set your team up for success on and off the jobsite. It teaches them things like:
Safety
Leadership
Industry basics
Job-specific skills
Personal development
MindForge is mostly communication software with a little safety and leadership training on the side. Their messaging platform helps you quickly, easily communicate with field crews, office staff, and third parties like subcontractors and suppliers.
With MindForge, you can deliver timely information to the jobsite—and that's important because informed crews are successful crews.
What's included?
BuildWitt Training
BuildWitt Training comes with over 800 video lessons that cover:
Safety
Soil testing
Toolbox talks
Personal finance
General construction skills
Leadership and management
Mental health and suicide prevention
Industry basics for asphalt paving, aggregate mining, heavy civil, and more
Job-specific training for equipment operators, estimators, field supervisors, grade checkers, laborers, and pipelayers
. . . and more coming soon!
We also share content from our partner companies, like instructional how-to videos from the American Welding Society and HCSS. Plus, your crews can earn OSHA, MSHA, and HAZWOPER certifications right in the app with the ClickSafety add-on.
See BuildWitt's course catalog.
MindForge
The MindForge platform has two components. The web portal lets admins manage communication and training in your organization—while the mobile app lets workers access information, train, and reply to messages.
MindForge also includes over 350 training videos from them and their partners. Topics include:
Leadership essentials

Safety—from basics like PPE and heights to specialty topics like pregnancy safety and human trafficking awareness
See MindForge's course catalog.
What features and capabilities are available?
BuildWitt Training and MindForge have some similar features and some that are pretty different. Let's see:
| | | |
| --- | --- | --- |
| Feature/Capability | MindForge | BuildWitt Training |
| Message centers for chats and group chats | ✔ | |
| Free access for your subcontractors | ✔ | |
| Training videos | ✔ | ✔ |
| Custom content uploads | ✔ | ✔ |
| Mobile-friendly app | ✔ | ✔ |
| Onboarding and orientation for new hires | ✔ | ✔ |
| Creation of employee groups in the app | ✔ | ✔ |
| Easy administration | ✔ | ✔ |
| Analytics to track progress | ✔ | ✔ |
| Help with API integration | ✔ | ✔ |
| English and Spanish language options | ✔ | ✔ |
| In-app safety certifications | | ✔ |
| Training for all experience levels | | ✔ |
| Clear, fixed prices | | ✔ |
| Lightning fast implementation | | ✔ |
| Ability to train offline | | ✔ |
Now, some of the features these apps "share" work differently depending on which app you get. Let's cover those in more detail.
Training videos
MindForge's training content mixes animated and live-action videos. In the live-action content, you're likely to see a video host photoshopped onto a picture of a jobsite.
At BuildWitt, we film all of our content on real jobsites with people who really work there. And our team of subject matter experts helps us make every lesson as realistic and practical as possible.
Our videos also use microlearning. That means most lessons are 10 minutes or less, so your team can watch a quick video during a toolbox talk or a few minutes of downtime. Some MindForge videos are over 30 minutes long—making the info harder to retain and taking a big chunk out of your team's workday.
MindForge Construction LifeSaver animated videos: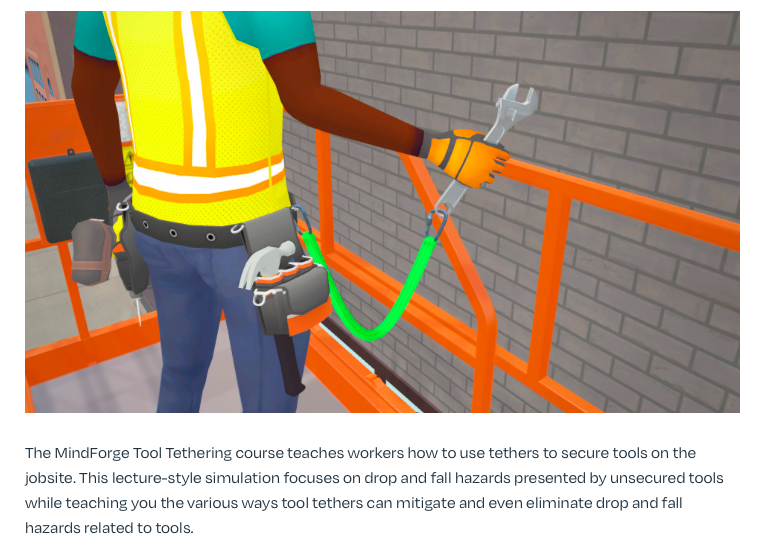 BuildWitt Training videos:
Custom content
Both apps let you upload your own custom content.
The main difference is that in BuildWitt Training, uploads are free and unlimited. You can also create quizzes or combine videos from our pre-existing courses to create your own custom learning plan. In MindForge, you'll have to pay extra for your team to see your own content.
Mobile-friendly app
Both apps are mobile-friendly, so your crew can train on the job. And neither software requires your people to have a company email address to sign up.
But with MindForge, your team can also chat and check for announcements in the mobile app—which you can't do with BuildWitt Training.
Access for subcontractors
Subcontractors can use either platform. Again, the difference here is cost.
In MindForge, you can give them an access code so they can join chats for free. With BuildWitt Training, you'll need to buy your subcontractor a user license before they can participate in your team's training.
Other differences
BuildWitt Training has more training capabilities and features than MindForge. We offer over twice as much training content on more topics, and our training works for people at all experience levels—whether they've been on the jobsite 20 years or 20 minutes.
You can also implement BuildWitt Training faster. It takes an average of two weeks, but you can pull it off in as little as one day if you're in a hurry—compared to 90 days for MindForge.
But to be fair, that's because our software is solely training-focused. MindForge is more of a communication solution. That's why MindForge has messaging capabilities and free subcontractor access that you won't find in BuildWitt Training.
We give you a way to develop your workforce. They give you a way to communicate with that workforce.
How much do MindForge and BuildWitt Training cost?
A good software system is worth every penny you pay for it. So, let's see just how many pennies we're talking about.
MindForge pricing
MindForge's pricing is kind of complex, so we'll start there.
| | | | |
| --- | --- | --- | --- |
| | Marketplace Package | Communicator Package | Enterprise Package |
| What you get | 350+ training videos you can assign to your team, plus completion tracking | All other features, like the message center, custom content uploads, and jobsite-specific features for teams of less than 200 people | Everything in the communicator package, but for larger teams of 200+ people |
| What you pay | $5 per credit | $3,000 | Custom; you'll have to talk to sales |
| Frequency | As needed | Annual | Unknown, but probably annual |
| Total cost | Varies | $3,000 | Varies |
Cost example: Marketplace Package
Let's say you have 100 employees, and you want to use MindForge to train them. Most training videos cost one credit per person, but pay attention—some cost up to 15.
You decide to use only one-credit training videos, and you assign one video per month. Here's how that math shakes out:
$5 per credit x 100 people = $500/video
$500 x 12 months = $6,000
Fortunately, training is pay-as-you-go, so you can buy training credits when you're ready to use them. But with over 350 training videos, it can become cost-prohibitive if you plan to do lots of training.
Cost example: Communicator Package
Now let's say you buy the Communicator Package for $3,000 per year, and all 100 people in your company use it. Let's check out that math:
$3,000 ➗ 12 months = $250/month
$250 ➗ 22 working days/month = $11.36/day
$11.36 ➗ 100 people = $0.11/person/day
That's a great value for on-demand communication between all of your jobsites, front office, and subcontractors.
BuildWitt Training pricing
Here at BuildWitt, we like dirt-simple pricing. Let's take a look at what BuildWitt Training costs:
| | | | |
| --- | --- | --- | --- |
| | Onboarding | Subscription | User licenses |
| What you get | Onboarding service to get your team up and running with the software | Access to our preloaded content library, partner library, admin features, unlimited content uploads, and ongoing personalized customer support | Access for individual team members to watch (or rewatch) 800+ BuildWitt Training videos and partner content* |
| What you pay | $1,000 | $3,000 | $8 - $15 per person |
| Frequency | One-time | Annual or monthly | Monthly |
| Total cost | $1,000 | $3,000 per year or $250 per month | Varies |
*Does not include cost of completing ClickSafety certification courses
User license costs
User license costs vary for BuildWitt Training because we offer discounts for choosing annual billing and buying more user licenses.
Your user licenses will cost $15 per person per month if you pay your subscription fee monthly—regardless of how many users you have. But if you pay annually, you'll start to rack up the savings:
$12/person/month for 2-49 users
$10/person/month for 50-249 users
$8/person/month for 250+ users
Want to see how much you'll pay for BuildWitt Training? Discover your estimated costs with our pricing calculator.
BuildWitt Training cost example
Let's return to our example: you want to train 100 employees with us. Here's how much it'll cost:
$10/month x 100 users = $1,000/month
$1,000 x 12 months = $12,000 user licenses
$12,000 + $1,000 onboarding + $3,000 subscription = $16,000
That's a big number to look at, but remember:
You'll save $1,000 next year because you only pay the onboarding fee once.

There's a

huge ROI on training, especially when you do it often.
It's a good overall value. Your team will get unlimited access to around 1,000 training videos, plus any custom content you upload. They can watch the same video a dozen times, or they can watch a different video every day.
Let's see what happens if your 100 employees watch one video per day:
$16,000 ➗ 12 months = $1,333/month
$1,333 ➗ 22 working days = $60.60/day
$60.60 ➗ 100 people = $0.61/person/day
That's a small price to invest in developing a top-notch workforce.
Comparing costs
First things first: we can't compare the cost of communicating with MindForge versus BuildWitt Training, because our software doesn't allow messaging. So for quick communication, MindForge is the hands-down winner.
But we can compare the costs of training with both platforms.
| | | |
| --- | --- | --- |
| | MindForge | BuildWitt Training |
| Cost | $5 per credit | $10 per user |
| Number of employees | 100 people | 100 people |
| Cost to train them once a week for one year | $26,000* | $12,000** |
| Other costs | $0 | $4,000*** |
| Total cost | $26,000 | $16,000 |
* $5/credit x 100 people x 52 weeks in a year = $26,000/year
** $10/user per month x 100 people x 12 months in a year = $12,000
*** The $4,000 includes onboarding and subscription fees.
You can see that if you want to train your people frequently (which is what they need and want), BuildWitt Training gives you a much better value. It costs less to train, and you get more than twice as much content. Since our videos only take a few minutes to watch, your crew won't lose production time to train.
Of course, it doesn't matter how much money you save if you buy software that doesn't meet your needs. Let's see the pros and cons to see who each software is best for.
What are the pros and cons?
Every rose has its thorns. Here are some of the good and bad things about both software solutions.
| | |
| --- | --- |
| MindForge Pros | MindForge Cons |
| Chat with your team to address problems and handle training issues right away | Requires crew members and/or field leaders to check their phones throughout the day instead of focusing on work |
| Send important jobsite alerts instantly | Marketplace Package can make training cost-prohibitive and limit the amount you can train your team |
| Low, flat rate for Communicator Package | 90-day implementation period takes a long time, and you'll have to decide if you want your money back before you're fully up and running |
| Onboard and message subcontractors, vendors, and other third parties for free | Pricing is unclear for larger teams of 200+ people |
| Only buy as many training credits as your team needs | Emphasis on "just-in-time" communication and training can create a reactive culture, insead of a proactive one |
| 60-day, money-back guarantee | |
| | |
| --- | --- |
| BuildWitt Training Pros | BuildWitt Training Cons |
| Clear, upfront pricing for teams of all sizes | No chat or messaging capabilities |
| Easy to add user licenses so you can create consistent, scalable training for growing or spread-out teams | Higher upfront costs |
| Unlimited access to entire content library (800+ preloaded videos, plus partner content) and custom uploads | New(ish) software—it's been around since 2022, so we're still working out bugs and figuring out what features to add next |
| Unlimited content uploads | Preloaded content covers the basics, but it may not cover every specific detail your team needs to know (that's where custom content uploads come in) |
| Specific training content based on role, industry, and experience | |
| Three types of Analytics to help you track performance | |
| Implementation takes two weeks on average | |
Which

one is better—BuildWitt Training or MindForge?
BuildWitt Training and MindForge do different things, so which software is better for you depends on what you're trying to do.
You may just need one, or you may actually need both to accomplish your goals. But as a general rule of thumb,
MindForge is better if you need to quickly communicate with team members and subcontractors in the field. You can

see a MindForge demo here

.
BuildWitt Training is better for training your team. The content is simple, powerful, and easy to customize. Plus, you'll get clear pricing and ultra-fast implementation. You can

see a BuildWitt Training demo here

.
Remember, the best software is the one—or two—that gets your people what they need to succeed at their jobs. That's what it's all about!
Onion: BuildWitt Training Aware
Location: Training Hub
Funnel Step: Convert
Big 5: Comparisons/Is it right for you?
BW Solution: Training
Topic: Reviews
Category: BuildWitt Training
Topic: Features
Subcategory: Training Software
Reviews
BuildWitt Training
Features
Training Software
Give your team members a clear path to succeed and watch them grow
Join the thousands of Dirt pros who get our top workforce development tips.