BuildWitt Training vs. MindForge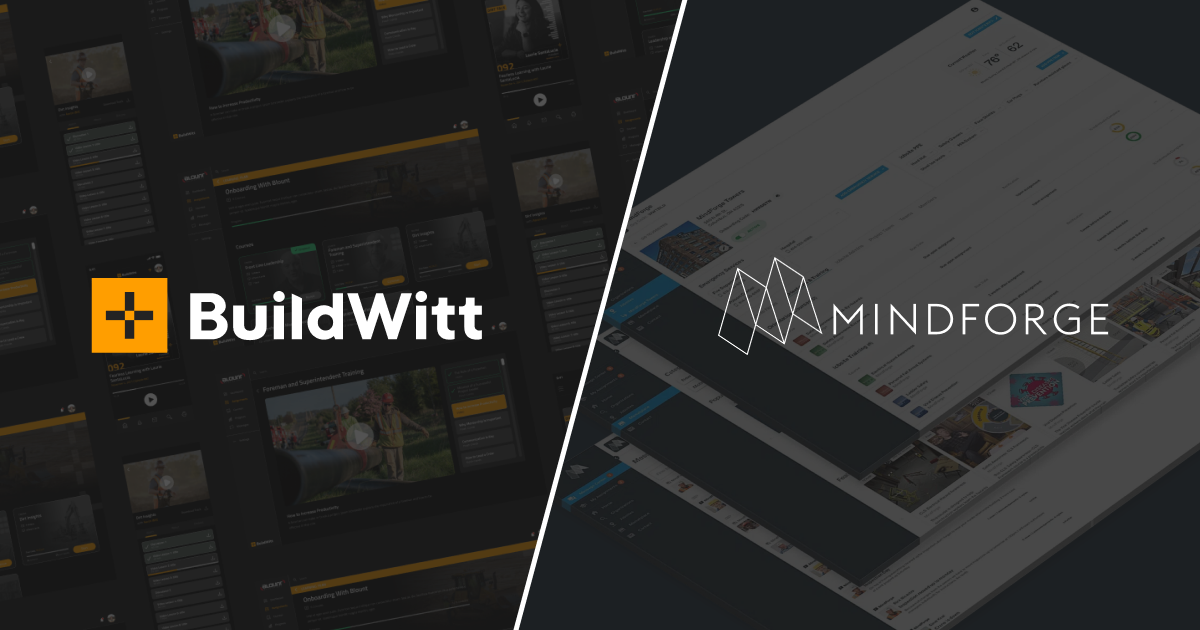 Table of Contents:

The Dirt World is different from most industries, and that means you need different software.
MindForge and BuildWitt Training are two software programs made for workers who are out in the field, moving dirt, and making things happen. We want to teach you the difference between these programs, so you can decide which is best for you.
Now, we know it's weird to compare ourselves to MindForge. You may be thinking, Won't BuildWitt just say their product is better?
No, we won't. We want you to be well-informed, so you can make the best decision for your business. Depending on what you need, MindForge may be a better fit. We'll walk you through an honest, unbiased comparison of what each software offers and how it can help you.
Let's do this!
What are BuildWitt Training and MindForge?
BuildWitt Training and MindForge are both software designed for crews in the field.
BuildWitt Training is training software that helps Dirt World and construction companies teach their teams about production, safety, and leadership. Its goal is to set your workers up for success.
MindForge is workforce communication software. It helps you stay connected to your team throughout the day, and it lets you do some training, too. According to MindForge, they focus on production, safety, and quality. Their goal is to help you reduce losses, have fewer work stoppages, cut down on duplicate content, and do less retraining.
Let's take a look at how these two programs compare.
What's included in the software?
All software comes with some built-in content and abilities. Here's what you'll get with BuildWitt Training and MindForge.
BuildWitt Training
BuildWitt Training comes with over 350 videos, and we're still adding more. The training content is grouped into courses that cover six key roles on your team:
Laborer
Operator
Field supervisor
Pipelayer
Grade checker
Leadership


Each video is made by real experts on real jobsites. Plus, you can see what your team has learned with assessments at the ends of the videos. You can preview content for each course or click through a short BuildWitt Training demo to see how the whole platform works.
MindForge
MindForge is one software system that comes with three apps:
MF Web Portal gives you administrative access to post announcements, alerts, and original training videos for your team and trade partners. You can also chat with them and check their training progress.
MF Mobile lets workers access the information you post in the portal and reply to your messages.
There are close to 200 interactive training videos from MindForge and their partners. However, you have to pay extra for your team to watch the videos.
You can see a MindForge demo here. It's 38 minutes long and walks you through the product in detail.
What features do MindForge and BuildWitt Training have?
MindForge and BuildWitt Training have some similar features and some that are pretty different. Here are the features they share, the ones just for MindForge, and the ones you only get with BuildWitt Training
| | | |
| --- | --- | --- |
| What you get | MindForge | BuildWitt Training |
| Alerts and announcement feature | ✔ | Coming July 2022 |
| Chats and group chats for your team and subcontractors | ✔ | |
| Training videos | ✔ | ✔ |
| Customizable training | ✔ | ✔ |
| Mobile-friendly software | ✔ | ✔ |
| Easy administration | ✔ | ✔ |
| Help with API integration | | ✔ |
| Videos filmed in the field using Dirt World experts | | ✔ |
| Training for all experience levels | | ✔ |
| Clear, fixed prices | | ✔ |
| Individual, classroom, or group training | | ✔ |
| No fees to access training videos | | ✔ |
| Microlearning | | ✔ |
Training videos (Both)
MindForge Construction LifeSaver is the video training content that MindForge makes themselves. They also use content from safety industry providers, like JJ Keller and Ally Safety. MindForge uses a mix of live-action and animated videos that they call lecture style. (And they do sound a little like lectures since MindForge uses some pretty big, complicated words in their video descriptions.)
At BuildWitt, we create original training videos for the Dirt World, by people who work there. Your team members get to learn from real people on real jobsites and real machines. Our videos also use microlearning. That means they're only one to five minutes long, so they won't bore your team to death. We also like to keep our video descriptions short and sweet, so your team members know what they're watching.
MindForge Construction LifeSaver animated videos: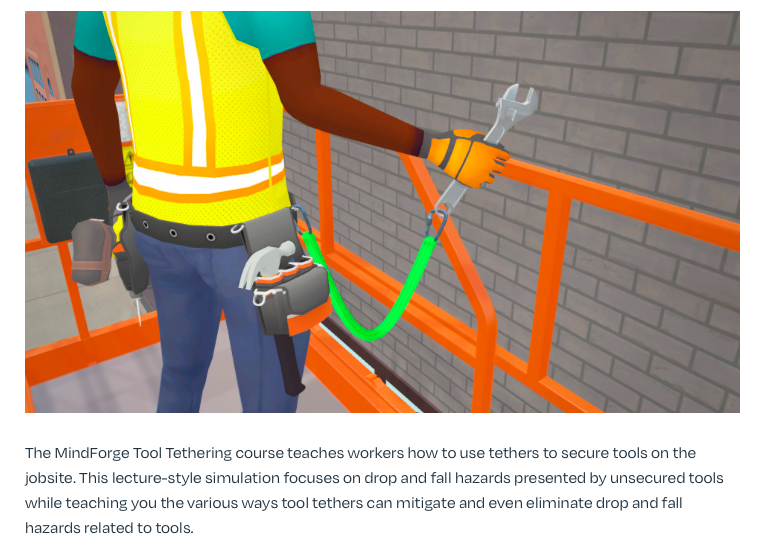 BuildWitt Training videos:
Customizable training (Both)
BuildWitt Training lets you modify our courses or create your own. You can upload videos, make custom quizzes, and combine videos from existing courses to create a custom learning plan.
MindForge also lets you upload your own content and create a course, but you'll have to pay extra for your team to see it.
Administrative access (Both)
BuildWitt Training and MindForge let you schedule training, set due dates, and manage users. So it's easy to add or remove someone who joins or leaves the team. You can also see what your team is learning and check their progress.
The systems are really on par with each other when it comes to the administrative side of things.
Mobile-friendly (Both)
Both MindForge and BuildWitt Training are mobile-friendly, so your crew can watch training videos when they have downtime on the job. With MindForge, they can also chat and check for announcements.
No company email address required (Both)
MindForge wants to overcome problems with not having company email addresses for laborers, and they're very proud of that. Anyone can use their product without a company email address, and the same goes for BuildWitt Training.
Integrate with other software (Both–but mostly BuildWitt)
You can integrate BuildWitt Training with other learning management software, and we'll help you set it up.
MindForge says you can "technically" integrate with other software, but most of their clients don't. They also say to think carefully before trying to use MindForge with another system.
Onboard subcontractors (Both–but mostly MindForge)
Subcontractors can use either platform. With MindForge, you can just give the subcontractor an access code so they can join team chats and see your posts in the portal.
With BuildWitt Training, your subcontractor will need a user license. You may have to buy one if you've already given the rest out to your team. However, our software isn't really designed to update your subs about what's happening on the jobsite. It's designed to train your team.
Alerts and chats (MindForge)
MindForge lets you send alerts and chat with your team, so you can tell them right away if something changes on the jobsite. You can even post a "just-in-time" training video to teach your team a skill they need for the day or correct a safety issue.
These features aren't available with BuildWitt Training just yet, but they are coming soon.
Create teams within the platform (MindForge)
With MindForge, you can group employees and subcontractors into teams, so they can easily communicate with the people they work closest with.
This isn't a feature that BuildWitt Training offers right now.
Unlimited users at no additional cost (MindForge–sort of)
MindForge's website says, "We don't charge by user." That's true for certain features, like chats, alerts, and bulletin boards. However, it's not true for training (more on that in the pricing section below).
One place for training (BuildWitt Training)
BuildWitt Training lets you keep all your training content on one easy-to-use platform.
MindForge requires your team to use two apps (MF Mobile and CLS) for training. It looks like CLS is for any preloaded MindForge or third-party training, while MF Mobile seems to be for content you upload. But to be honest, their website is a little murky on this topic, so ask them to be sure.
Training for all experience levels (BuildWitt Training)
You can use BuildWitt Training to educate your current team or onboard new team members–whether that's a new laborer with no experience, an operator with 30 years on the job, or a company leader.
Individual, group, or classroom learning (BuildWitt Training)
BuildWitt Training works great for individual, online learning. But you can also use it in group and classroom settings. (Right now, we're working to make it even friendlier for instructors.)
All-inclusive training content (BuildWitt Training)
As soon as we help you set up BuildWitt Training, you can assign any and all training videos to your team. With MindForge, you have to pay for training separately from the workforce communication platform.
How easy is it to set up?
MindForge has a 90-day implementation process. You'll have meetings to plan the launch, set goals, and make a timeline. Plus, they do regular check-ins to help you meet your goals.
BuildWitt Training starts with a 30-minute welcome call to learn about your needs. Then we'll start helping you set up the software right away. You can add an optional, five-hour implementation meeting to learn the ropes, and we can help you link BuildWitt Training to your other learning management systems (that's the API integration we mentioned earlier).
How much do MindForge and BuildWitt Training cost?
A good software system is worth every penny you pay for it. So, let's see just how many pennies we're talking about here.
MindForge Pricing
MindForge's pricing is kind of complex, so we'll start there.
The MindForge platform lets you add users, chat, and create teams and bulletin boards. The platform costs 0.001% of your yearly revenue. (E.g., $200 million in revenue = $2,000 for the platform.) If your revenue is less than $100 million, you'll automatically pay $1,000 per year.
You can pay as you go with "credits." Or you can buy a "Guaranteed Maximum Price" (GMP) plan. This limits how much MindForge can charge you, based on your business needs. It's unclear from the pricing page how they calculate your GMP, so you'd have to talk to them to find out.
Now, that's for the platform. If you want access to training content, you'll have to pay more.
MindForge training content costs $5 per credit on the pay-as-you-go plan. Assigning one training video to one team member costs one credit. So if you assign the same video to 50 people, you'll pay $250.
However, some courses from third-party companies cost up to five credits. At that rate, you'd pay $1,250 for 50 employees to go through just one video.
On a GMP plan, you'll pay for content based on headcount. That doesn't seem fair, since MindForge's pricing page says, "We don't charge by user." However, that's only true for the communication platform. Training does cost for each user.
The kicker is, that you can upload your own training videos for free . . . but you still have to pay so your employees can watch them. That also costs $5 per credit on the pay-as-you-go plan.
To upload your own content on a GMP plan, you'll have to pay a fee based on your yearly revenue. The MindForge website doesn't clearly state how much that fee is, so again, that's a question for their team if you're interested in this software.
BuildWitt Pricing
We like dirt-simple pricing. BuildWitt Training costs $3,000/year + $12/month per user. But there are discounts for bulk users and for choosing annual billing.
The more users you have, the more you can save:
50-249 users: $10/month user cost
250-499 users: $8/month user cost
500+ users: Chat with sales about your custom pricing options
Plus, you can save an additional 5% by paying annually versus monthly. Feel free to calculate your estimated costs with our calculator.
BuildWitt Training may be more affordable for some companies. For others, MindForge might be cheaper. But it doesn't matter how much money you save if you get the wrong software for your business. Let's look at the pros and cons of both programs and who they're best for.
Pros and cons of BuildWitt Training and MindForge
Like they say, every rose has its thorns. Here are some of the good and bad things about BuildWitt Training and MindForge.
Pros of BuildWitt Training
BuildWitt Training helps you equip your team for success from the start. Here's what we like best about it:
You can access training videos right away, at no extra cost.
Your team can watch training videos when they have downtime in the field, but they don't need to check the BuildWitt Training app all day.
This software helps create a standard training experience and lets you know that your foremen are using the right training every time.
Pricing is upfront and clear.
Training is designed for team members of all levels across six key positions, so you can help them learn the skills they need to fit where they're at and to grow.
Cons of BuildWitt Training
You can't chat with your team or send them alerts, so you'll need to communicate the old-fashioned way in the field or by using any other communication system you have in place.
The upfront cost of our flat prices can be tough to swallow, especially for small businesses. The good news is that you can break this up into monthly payments that are more manageable.
Extra setup help costs extra money.
BuildWitt Training is a new software, so we're still working out some kinks. The cool thing is, if you have features you want to see, we will glady listen.
Pros of MindForge
MindForge is about quick communication and helping you keep your crew and subcontractors informed. Here's what seems good about it:
You can send alerts and chat with the team to address problems and handle training issues right away.
You can add users to the workforce communication platform for free–making it affordable to chat with and send announcements to lots of people.
You can choose to buy more or less training based on your budget and team member needs.
Your subcontractors can easily get in touch with you and your crew, so people don't have to share their personal contact information with others.
Cons of MindForge
Some team members might miss a message if they're focused on the job. Plus, workers in remote areas may not have cell phone service to use the app.
MindForge talks about their "just-in-time communication." But last-minute training can put your team in a bad spot if they don't have time to stop and watch a video. The right time to train your team is before problems arise, so they're prepared to handle whatever comes their way.
Team members have to regularly check their phones on the jobsite, which can be a big distraction.
Some people might not have smartphones, or they might not want to use personal phones for work. MindForge's attitude is to "leave 'em in the dust" or give them company-issued smartphones–which is an extra expense for you.
MindForge has a 60-day, money-back guarantee, but the implementation period lasts 90 days. So you'll have to decide whether you want to commit to the product before you're even done getting it up and running.
Their pricing is somewhat unclear and prone to change.


Which one is better–MindForge or BuildWitt Training?
MindForge was designed for workforce communication, and that's what it does best. If you need to quickly talk to team members and subcontractors in the field, MindForge is the better bet. (As long as your people have cell phone service.)
BuildWitt Training is better when it comes to training your team. The content is simple, powerful, and easy to customize. Plus, you'll get clear pricing, and we'll help you get your team up and running right away.
See who's using BuildWitt Training and what they have to say about it.


Is It Right For You?
Onion: BuildWitt Training Aware
Subcategory: Training
Location: Training Hub
Funnel Step: Close
Big 5: Comparisons/Is it right for you?
Category: Investing in Your People
BW Solution: Training
Is It Right For You?
Training
Investing in Your People