What Roles Does BuildWitt Training Cover?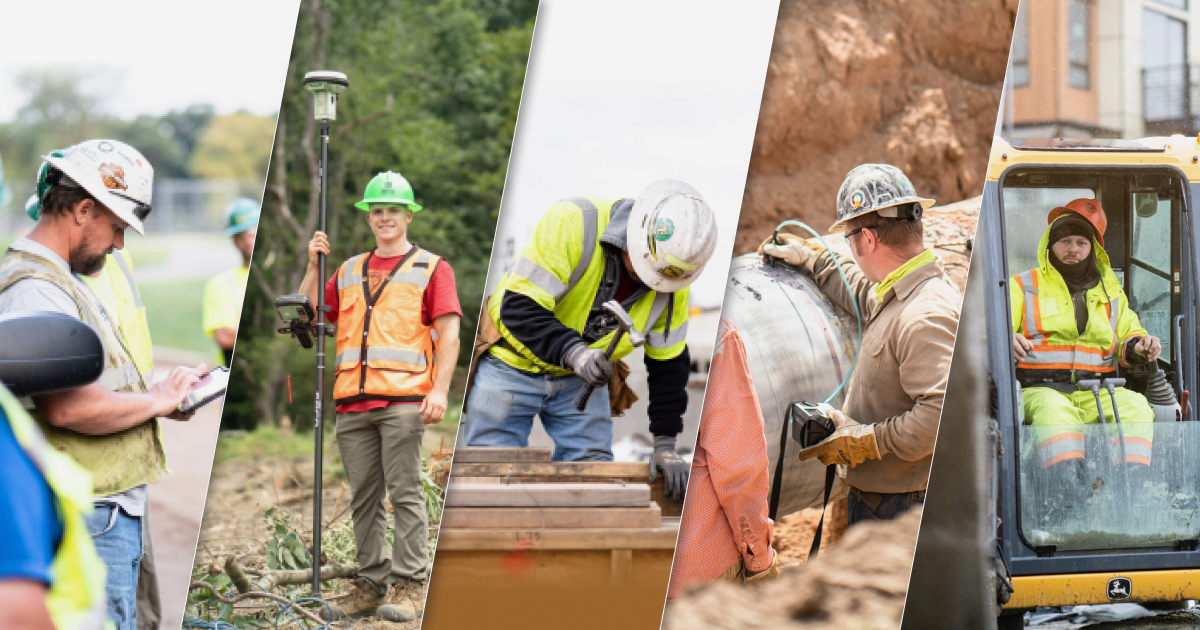 Some training principles apply to the whole crew, but sometimes, you need specialized training that offers a deep dive into a specific role.
BuildWitt Training is designed to help you cover specific training needs for your whole crew. It offers job-specific courses for the roles of:
Foreman and field supervisor
Laborer
Grade checker
Pipelayer
Operator
Find out what each course includes and how it can help build up your crew members to be as effective and productive as possible in their roles.
Foreman and field supervisor
Good crews start with good leaders. You want to make sure your foremen and field supervisors are equipped to handle the daily tasks of their job and manage their crews effectively.
The foreman and field supervisor training contains both introductory and Level 2 courses. The introductory training is perfect for new and aspiring leaders who have little to no experience managing a crew, while Level 2 is great for newer leaders who are still learning the ropes.
The 48 micro-lessons in these courses cover topics such as:
Industry basics
Time management
Keeping crews safe
Being an example
Teaching and mentoring others
Communicating with a crew
Planning and managing jobs
Top it off with our leadership training course to emphasize skills like taking ownership, creating a healthy culture, and developing a crew.
Laborer
In many ways, laborers are the backbone of the crew. They handle the hard work on the ground that enables highly specialized crew members to come in and do their jobs. So the laborer role is an absolutely critical position on the crew.
However, it's also an entry level position. You've got a lot of people who are new to the industry and need to learn the very basics of how to work in the Dirt World safely. They're also looking for ways to grow and develop in their careers.
Our introductory and Level 2 laborer courses provide 59 micro-lessons on necessary skills for new laborers like how to:
Stay safe on the job
Be professional
Avoid pitfalls like complacency and hiding from mistakes
Use and care for tools
Fuel and grease machines
Be a spotter
Talk about one's future in the Dirt World
Grade checker
Being a grade checker requires a high level of skill and precision. For new workers who have little to no experience, there's a lot to learn. BuildWitt's introductory and Level 2 grade checker training help them start off on the right foot.
This training features 35 micro-lessons on:
Math
Safety and comfort
Communication, especially with operators
Using and carrying tools
Staking grades
Checking grades
Taking ownership of any mistakes
With this mix of practical hard skills and necessary soft skills, new grade checkers will be able to level up their accuracy and professionalism faster.
Pipelayer
Pipelayers' work may wind up underground where people can't see it, but that doesn't mean what they do doesn't matter. In fact, pipelayers have to be some of the highest caliber, highest integrity people on your crew precisely because the client can't see their finished work.
BuildWitt Training offers introductory and Level 2 courses to help new and aspiring pipelayers learn how to do this work well.
They'll get access to 70 micro-lessons that cover a wide range of topics, including:
Types of utilities and pipes
Physical demands and safety
Tools and how to use them
Trench boxes
Pitfalls and mistakes to avoid
Installing, stringing, hoisting, and rigging pipe
Bringing pipe into a trench
Backfilling
Soft skills like work ethic and asking questions
Operator
Operators have a high level of responsibility. Their work takes an extreme amount of skill, and since mishandling heavy equipment can be so dangerous, they need to know how to do their work as safely as possible.
Operators also have some of the most variable jobs in the industry, because they can work with so many different types of machinery. Yet some principles apply across the board—no matter what machine the operator is using.
To help operators learn the basics of the trade, specific skills for different types of machines, and how to stay safe, we've designed five BuildWitt Training courses just for them (with more on the way!)
Available courses include:
Operator: An Introduction (32 lessons). This course covers principles that apply to all operators regardless of what machine they use. It includes industry basics, machine basics, responsibilities, pitfalls to avoid, and soft skills like being professional, caring for one's mental health, and communication.
Operator: Machine Walkaround Inspections (86 lessons). This course teaches operators how to do walkarounds on different types of heavy equipment. The more they learn about maintenance,

the more likely you are to save money

on repairs and avoid unnecessary machine downtime.
How to Operate a Dozer: Level 1 (13 lessons). New operators learn the basic vocabulary, controls, and techniques to run a dozer. Plus, they'll learn about pushing piles and working on slopes.
How to Operate an Articulated Haul Truck: Level 1 (8 lessons). New operators learn the lingo, basic operating skills, how to load and dump, and how to navigate the jobsite in an articulated haul truck.
How to Operate an Excavator: Level 1 (14 lessons). New operators learn the basics of their excavator, how to use it, and how to talk about it. They'll also get tutorials on different digging techniques.
With this combination of general and machine-specific knowledge, you'll set your operators up to grow and succeed in their roles.
Want to sample BuildWitt Training for yourself?
You can get access to over 50 free training lessons and share them with your crew right now. What better way to see if these courses live up to the hype?
Try BuildWitt Training for Free