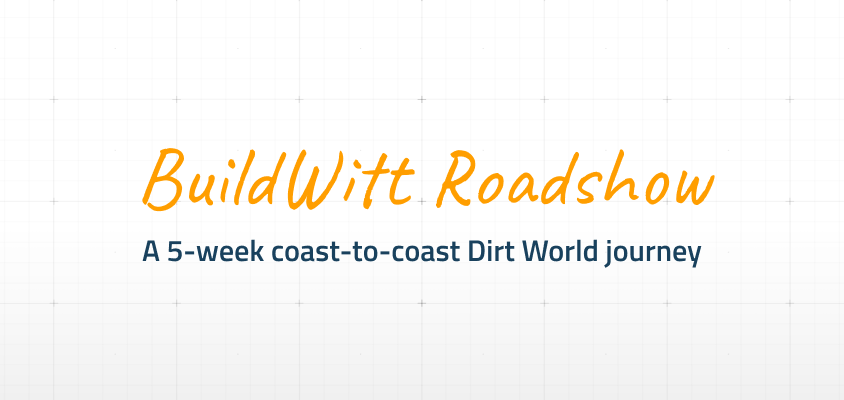 Day 16 — The Future of Training
After spending the night in the driveway of my friend Nick's house (welder extraordinaire and owner of Bezates Construction), we dropped the RV off at a Cabela's parking lot. Then we braved the Portland traffic, ending in Beaverton.
Hidden among Portland's suburbs is one of America's largest water transmission projects—AKA my version of the bat signal.
The Willamette Water Supply Program is a $1.3B project to pull water from the Willamette River, treat it, and transport it through a network of 30 miles of pipelines to feed hundreds of thousands of people living in Beaverton, Hillsboro, and other surrounding areas.
It's not every day you see an entirely new water network under construction!
JW Fowler, a long-time BuildWitt customer, is one of the contractors building the job. I asked what they had going, and they said 66" steel pipe with a Hitachi 870. Good enough.
We pulled off a quiet country road into a staging area. After a brief walk, we watched the JW Fowler crews navigate an ENORMOUS stick of pipe underneath an intricate shoring system using their Hitachi 870 and Cat 336 excavators. Once the pipe was home, welders stepped in to create a perfect union between the two pieces of steel.
While the underground work was thrilling, the morning's highlight was the endless blackberry bushes surrounding the project. I ate so many berries that my stomach hurt. Worth it!
We then headed south, where I paid our friends at Kerr Contractors a quick visit, then arrived at Knife River's training center in Albany, Oregon.
Knife River has thousands of people working in construction and materials spread across most states west of the Mississippi. It's an incredible operation. And with so many people comes a huge need for training... Enter Knife River's training team, led by Dan and Kris, who were gracious enough to host us.
I've seen many training facilities, but this one is exceptional!!
We started with their classrooms, where they were hosting a leadership workshop with people from Hawaii to North Dakota. The classrooms also feature technology allowing them to broadcast video and audio feeds from their training anywhere in the world. Consider this step one of the training journey.
Step two is hands-on training, which brought us to the crown jewel of their operation—the 80,000-square-foot climate-controlled dome, where they train operators and host industry events.
They can bring excavators, dozers, and blades into the dome and train using colossal garage doors. The dome allows for consistent conditions and GPS to work inside without issue.
The technology doesn't end there… Thanks to onboard cameras and headsets, their instructors can watch students operate and communicate with them instantaneously. There's also a lounge that allows others to watch the instruction live.
How do I know? I ran their 150 blade while a Knife River instructor, Mikey, talked me through controls and techniques remotely. INSANE.
And finally is step three… Situation-based training. Within the following year, Knife River's facility will feature a mock town featuring buildings, roads, and utilities. Like the military and law enforcement, they will set up real-world scenarios and apply pressure with role players to create the most realistic training in the Dirt World.
The best part of Knife River's facility? They train beyond Knife River! If you want to learn more, you can check out their website HERE.
We may be done with another day, but we're still not done with Oregon! Next up… Logging.