What Is a Bulldozer and What's It Used For?
When it comes to pushing around dirt, the bulldozer—or dozer—is your machine.
Besides being a master of the dirt pile, the dozer can grade, slope, push, backfill, and clear land with sheer horsepower and delicate precision. This means it's one of the core pieces of equipment in a contractor's fleet.
The dozer also has roles in other industries, including mining, quarries, waste management, and landscaping.
Engine-powered dozers started making their way onto job sites in the 1920s and saw duty in World War II, even giving an assist during D-Day by clearing beaches and filling bomb craters.
Machine technology has advanced through the years, and today's machines feature a host of features that help operators maximize productivity, monitor machine health, and maintain precise grades.
What are the parts of a bulldozer?
Caterpillar sometimes calls these machines "track-type tractors," which gives you an idea about what they look like:
The tractor is where the drive train and cab are located—the center of what powers the machine. This is basically the entire machine as you see it.
The track, also called an undercarriage, provides the traction and stability needed to power through all the jobs on a dozer's to-do list. While most dozer tracks are made of steel, some smaller dozers also use rubber tracks, which are kinder to sensitive areas and asphalt and concrete.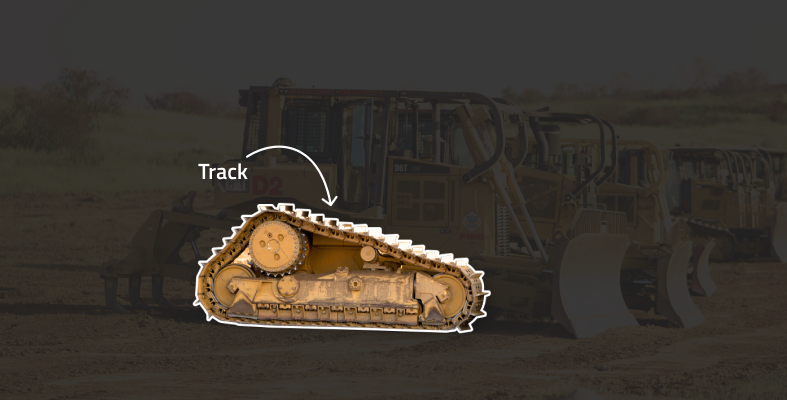 Push arms connect the blade to the track frame, and pitch arms run diagonally between the blade and pitch arms to control blade tilt and push and provide a brace for the push arms.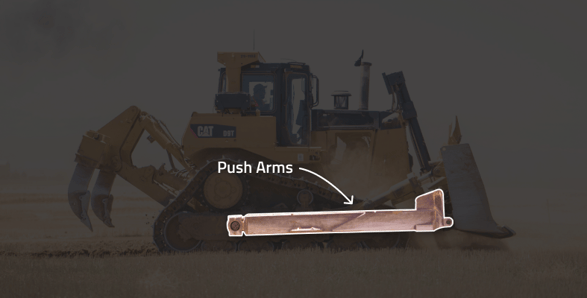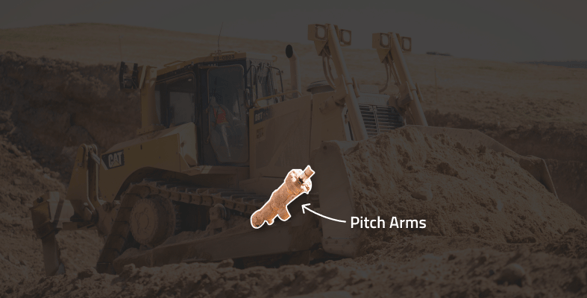 Finally, there's the blade or the business-end of the dozer. It can be positioned in a variety of ways and comes in several shapes and sizes, all designed to get the most out of whatever job is at hand.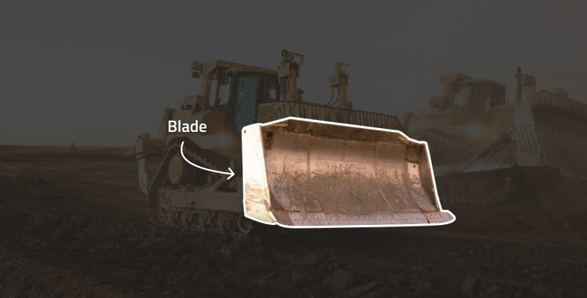 A dozer can also come with a ripper, positioned on the back of the machine. It does just that: it rips through the ground behind it to allow for easier removal by the blade on the dozer's next pass. Rippers come in two basic types: single or multi shank.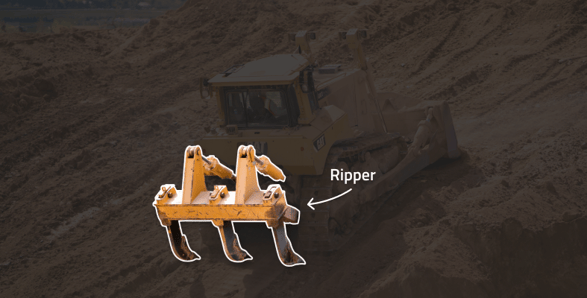 What does a dozer do?
While the dozer's basic job is pushing dirt, that's just the beginning of its skillset.
Depending on its size, dozers can muscle their way through brush, trees, and debris. They can spread materials, fine grade, contour the land, and create slopes and berms. They can even move piles of trash.
Dozers can also be used to provide extra pushing power behind a single-engine scraper.
One of the reasons the dozer is so versatile is the front blade, which can be easily swapped with a variety of blade shapes to address different jobs. Common blade types include S-blade, U-blade, S-U blade, angle blade, and the Power-Angle-Tilt (shortened to PAT) blade.
Types of bulldozers
Crawler dozers (those on tracks) are the most common machine on jobsites. With the tracks keeping these heavy machines from sinking, crawler dozers work great in the muck and mire and rough terrain of a typical jobsite.
There are also wheeled dozers, which use four heavy-duty tires instead of tracks to quickly maneuver the machine on flat surfaces; they shine in road maintenance and working on sensitive ground.
Dozers come in all sizes, from around 70-horsepower smaller units (also called mini dozers) that excel in landscaping contours and fine grading to the massive 890-horsepower machines used in mining to rip, push, and stockpile materials.
Dozers versus other heavy equipment
Every piece of heavy equipment has a specific role on a jobsite. But sometimes, the functions of a machine can overlap. Let's see how the dozer stacks up to other machines.
Bulldozers vs graders
Since they do a lot of the same work and both use blades, bulldozers can sometimes be compared with graders.
Graders are generally thought to be best at fine grading, although today's precision machine controls also give dozers these capabilities. Dozers are great for pushing large amounts of dirt and working on rough terrain.
One disadvantage that graders have over dozers is their elongated profile which can make them less maneuverable compared to dozers on some jobs. But since graders are on wheels instead of tracks, they also can go down the road at much higher speeds (23 mph vs. around 7 mph) than dozers.
Grader blades (also called moldboards) can be positioned in ways that are just not possible with a dozer, including higher angles left and right to cut high banks and make deeper cuts. Graders also excel at snow removal and road maintenance.
But, graders do require a high level of expertise to control. In fact, an experienced grader operator is considered the top dog of operators (or so we hear).
Bulldozers vs. skidsteers
There's also chatter about using a small dozer—usually under 100 horsepower—versus a larger skid steer or compact track loader. The talk usually comes down to the pushing and clearing power of the dozer compared with the multitasking ability of the skid steer and compact track loader. The job at hand usually decides the winner.
Who makes dozers?
Several well-known construction brands make dozers, including Caterpillar, Case Construction Equipment, John Deere, Komatsu, and Liebherr.
Here's an overview of what these companies offer:

Cat divides its dozers up into four main groups: small, medium, large, and wheel dozers. Small dozers range from the 80-horsepower Cat D1 to the 104-horsepower Cat D3. The medium line goes from the 130-horsepower Cat D4 to 354-horsepower Cat D8. Large dozers include the 452-horsepower Cat D9, 600-horsepower Cat D10T2 and 850-horsepower Cat D11. The company offers six wheel dozer models, ranging from the 249-horsepower Cat 814 to the 907-horsepower Cat 854K.

Case offers six dozer models, ranging from the 68-horsepower Case 650M to the 214-horsepower Case 2050M.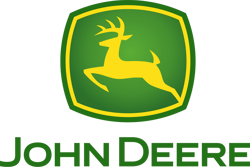 Deere's eight dozer models start at the 80-horsepower Deere 450K and go up to the 350-horsepower Deere 1050K.

There are five classifications in the Komatsu dozer line-up, including small, mid-size, large, surface-mining, and iMC dozers. The company has 10 small dozer models, ranging from the 89-horsepower Komatsu D37EX-24 on up to the 131-horsepower Komatsu D51PX-24. The company's 16 mid-size dozers start with the 168-horsepower Komatsu D61EXi-24 and go on up to the 237-horsepower Komatsu D71PX-24.
There are 11 models in the large dozer class, ranging from the 264-horsepower Komatsu D85EXi-18 up to the 354-horsepower Komatsu D155PX-8 LGP and D155CX-8 K170 models. The Komatsu D375A-8 (609 horsepower) and Komatsu D475A-8 (890-horsepower) fill out the company's surface-mining dozer class. Komatsu also makes 13 models of iMC (intelligent machine) dozers ranging from the 105-horsepower Komatsu D39EXi-24 to the 354-horsepower Komatsu D155AXi-8.
The company offers eight dozer models in the U.S., ranging from the 132-horsepower Liebherr PR 716 Litronic to the 768-horsepower Liebherr PR 776 Litronic.
Staying safe around dozers
One of the best dozer safety practices is doing a thorough daily walkaround before you get on the machine. Look for leaking hydraulic hoses, damaged steps, or handholds, and make sure the undercarriage is free from debris.
Find the steps and handholds leading up to the cab. The first step is usually located on the track frame or, if it's a small dozer, the track itself serves as a step. Be aware of any slipping hazards such as mud.
Wearing your safety glasses, hard hat, vest, and steel-toed shoes (also called PPE, or personal protective equipment), get into the cab using both hands and one foot (or "three points of contact".
When seated in the cab, adjust your seat so you can comfortably reach all controls, including foot pedals. Be sure you've put on your seat belt; modern machines won't engage until you do so.
Make sure the blade and ripper are resting on the ground. With the machine in neutral, sound the horn to warn anyone around you that you're about to move. Check all mirrors and cameras to make sure everyone is clear of the machine. Start the machine and let the engine and hydraulics warm up.
When operating, if you find yourself in a situation where the dozer rolls, know that the safest place is in the cab, which was built specifically to protect you in such cases. In fact, cabs are roll-over protective structures, or ROPS.
The seat belt becomes your best friend in a rollover. Many operator injuries and even deaths could have been prevented by simply wearing the seat belt.
If you're taking a break from the machine or shutting down for the day, make sure you park the dozer on a smooth, level area. Lower the blade and ripper (if so equipped) to the ground and engage the parking brake and hydraulic lockout. Check your operator's manual for additional shutdown procedures.
From small precision machines to large behemoths pushing through a mine site, dozers give you the power to get the job done.
Explor the Dirt World
The Dirt World is full of exciting machines like dozers. If you're into heavy equipment like we are, check out Aaron Witt's vlog where he travels the world touring jobsites and documenting the cooling machines.
Meet the Expert
Marcia Doyle
Based on her 30-years-plus as chief editor of a construction equipment site, Marcia Doyle knows this about contractors: they don't understand lazy. Their success stories are carved out of sweat, a single-mindedness to perform for their customers, and an innate inventiveness. They deserve content that's concise, information-packed, and actionable, a mission she will continue as a BuildWitt contributor.
Join the thousands of Dirt pros who get our top workforce development tips.