What Is a Motor Grader and What Does It Do?
What a motor grader does
The motor grader—also called a road grader, grader, or blade—is a road-building marvel.
With it, you can build dirt roads from scratch, prepare a smooth-as-silk final grade before the pavers come in, and cut ditches and embankments.
It doesn't stop there. A grader is also great for maintaining roads, mixing materials, handling rough grading behind trucks and scrapers, and finishing grading to incredibly tight tolerances around curbs and manholes.
Plus, graders can plow snow, create and maintain mining haul roads, and form drainage ditches and terraces on farms.
These machines are an essential part of the Dirt World's equipment fleet.
They range in size from small maintenance-type units of less than 100 horsepower to mining behemoths that have 535 horsepower, weigh more than 161,000 pounds, and have 24-foot-long blades.
Manufacturers include Case, Caterpillar, John Deere, Komatsu, LeeBoy, Rhino, Sany, and XCMG.
How does a motor grader work?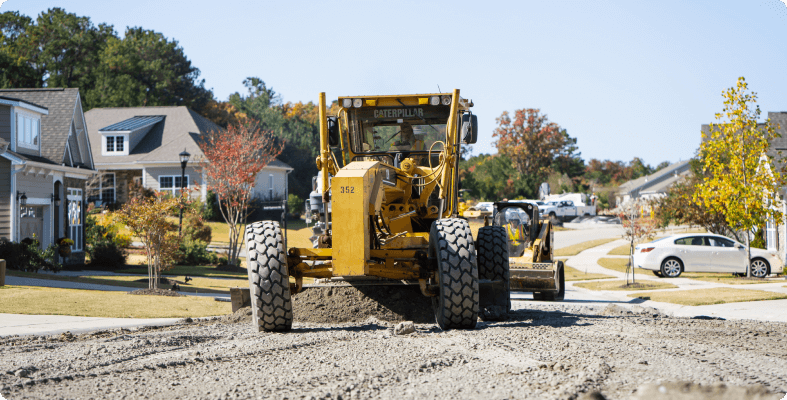 You've probably seen a motor grader in the wild, but maybe didn't recognize it from the other machines. You'll find them on roads, paving, or working on drainage. With three sets of wheels and a blade in between the front and rear axles, the motor grader is a unique-looking beast. And it's uniquely operated.
The heart of the motor grader is the blade or moldboard. The moldboard rolls material from the leading—or toe—edge to the trailing edge (also called the heel or discharge side), and then deposited.
It moves in (almost) all directions
This moldboard/blade can be positioned in various ways, making the grader extremely versatile. It can be rotated left or right, shifted side to side, angled, raised, and lowered, tipped forwards and back, and even positioned at steep angles on each side.
Thanks to the articulation joint located underneath or just behind the cab, the front moldboard and frame can be positioned at an angle from the rear section. Think of it as an elbow in the middle of the machine. This articulation enables the machine to move around curves, contoured grades, and shapes easily.
If it weren't enough that the blade can move every which way, the tires of a motor grader could also be tilted from side to side, which helps prevent material from shifting away from where the operator wants it. Leaning the tires to one side or another shortens the machine's turn radius and reduces front sliding on slopes or turns.
Drive chain stats
Motor graders typically use a rear tandem drive (6 x 4) or an all-wheel (6 x 6) drive system. Rear tandem drives are simpler in design and require less maintenance.
With all-wheel drive, the front wheels pull, which gives the grader increased tractive effort and the ability to slow or speed up the front tires in relationship with the back tandem drive tires. This helps the grader keep on a slope or pull through ditching.
Extreme accuracy, with more features on the horizon
Equipped with machine control and guidance equipment, these machines have become quite nimble, with accuracy down to plus or minus a quarter of an inch. In addition, modern machines come with various operator-assist features, including auto-shift and auto-articulation.
Parts of a motor grader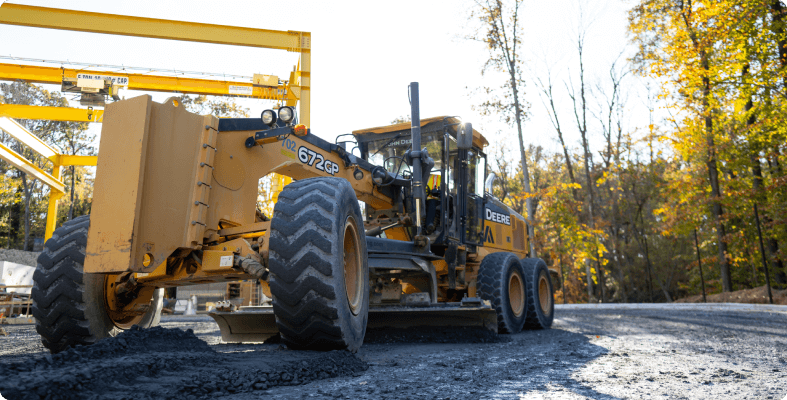 Graders have three axles, with the steering axle in the front, followed by the moldboard (or blade) in the center, behind which sits the cab and rear section, mounted on two rear axles.
Here's an overview of the parts of this machine, starting from the rear: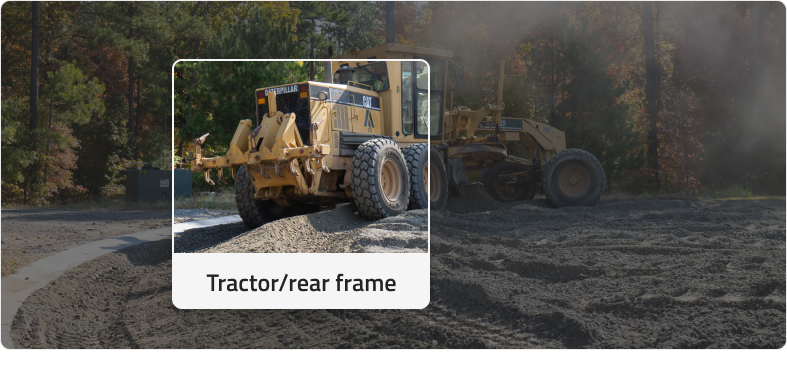 Tractor/rear frame: This rear section, or prime mover, contains the engine, transmission, hydraulic pumps and motors, and electrical system. In other words, everything you need to power and operate the machine is in the rear frame, mounted on rear tandem drive tires.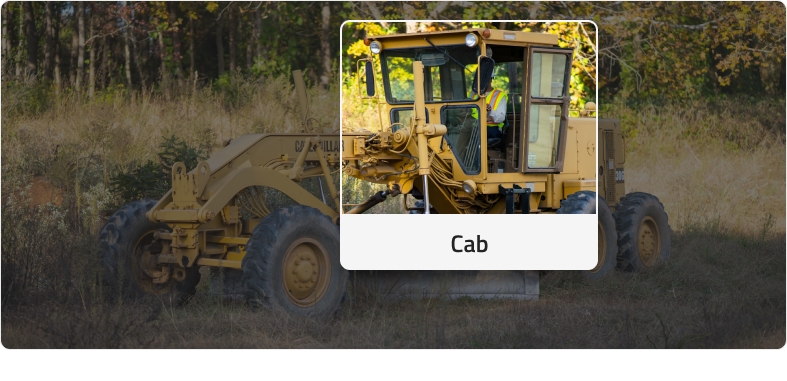 Cab: You'll find the operator's cab in front of the rear frame, toward the unit's center. The elevated cab gives the operator all-around visibility of the machine—which is most critical to the moldboard/blade. From this vantage point, the operator has full control of the machine.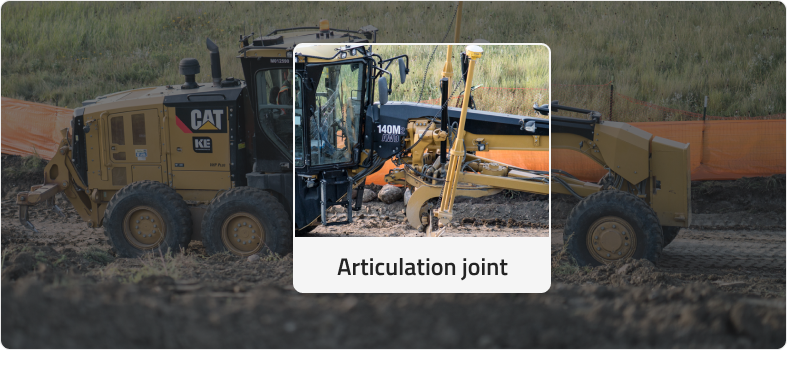 Articulation joint: Beneath or just behind the cab, the articulation joint allows the front frame of the grader to be positioned at an offset from the rear frame. This joint is what gives the motor grader its unique cornering ability.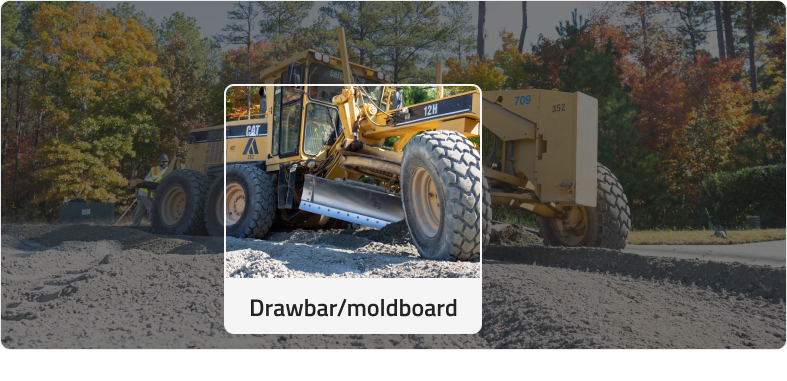 Drawbar/moldboard/circle: This is the working section of a grader in the front of the cab. The drawbar is used in conjunction with the circle to position the blade. Working in winter? Instead of the standard drawbar, contractors can trade them for specialty V-plows, snow wings, and blade extensions for snow plowing.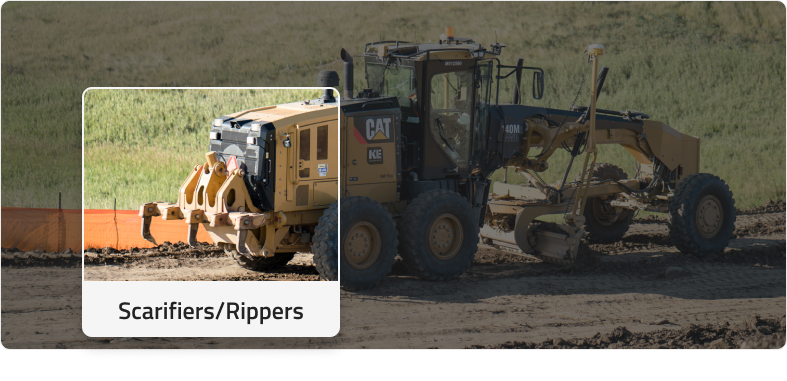 Scarifiers/Rippers: These help break up the ground. Typically attached to the back of the machine, scarifiers can also be mounted on the front of the grader and behind the front axle. Rear-mounted ripper-scarifiers have two sets of shanks, with ripper shanks used for heavier work.
How to operate a motor grader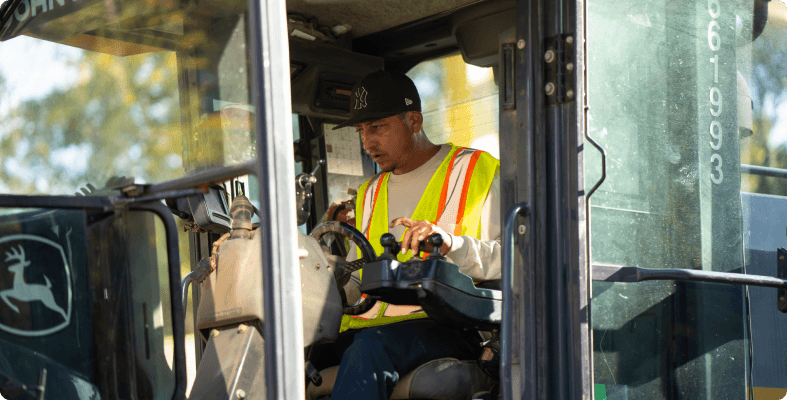 We're all about trying something new, but if you start with a motor grader, don't expect to master it on day one. Then again, if you want real operator bragging rights, you're willing to put in the time, this is the machine for you.
Give yourself time to gain experience
A grader is a complex machine and takes time to learn. Think years, not days. Operators who've been at it for a solid part of their careers say they're still learning. Operating from the cab of a motor grader is one place you will never get bored on your way to becoming a grader ace!
Some operators say learning how to operate a dozer can give you a feel for the basics of what it means to operate a grader. The two machines are pretty different, but they both require blade control fundamentals. However, they do move material differently—dozers push, and graders roll material across the blade.
Get comfortable multi-tasking
Depending on the make and model of your machine, there are different types of grader controls, which add to the complexity of getting to know this machine. Some have joysticks, which means operators can sit back in their seat. Operators with joysticks have less fatigue, greater visibility, and greater overall comfort.
Other manufacturers combine a steering wheel with either joysticks or levers for the graders' notorious "antler rack." Since the antler racks provide a variation on traditional controls, many operators prefer them to joystick-only machines.
Older graders have even more "points" on their antlers
On the off chance you've jumped into the cab of a motor grader, you've probably thought, That's a whole lot of levers! But you'd be surprised! Compared to past machines, today's graders are much easier to operate.
If you're in an older machine—and there are plenty still—there can be as many as 12 levers on each side of the steering wheel! If we're talking antlers, conquering the cab controls of a machine like that equates to shooting the prize buck.
Machine functions are laid out differently
There are also differences from machine to machine where certain functions are located. One manufacturer will have articulation and wheel lean controls on the left side, while another manufacturer will put those functions on the right.
Most blade work happens in lower gears. Go too fast during blading, and you risk separating the material and damaging the machine. Faster speeds should only be used for snow plowing and leveling out washboarding from gravel roads.
If it's hard, why use it?
Not many people in the trades will back down from a challenge, and operating a grader is one challenge that comes with incredible rewards.
The level of precision, the smoothness of the grade, and the time it takes to complete a project are all profoundly increased when you use the right machine for the job—in this case, a motor grader. In the words of Dirt expert Jay Collup, "You're looking at a night and day difference" between a job where a motor grader is used for road building and where it isn't.
Complicated? Yes! And that's a good thing. Motor graders offer muscle and precision to create smooth surfaces that lay the foundation for roads, runways, buildings, and more. They are an integral part of today's earthmoving fleet and offer a unique challenge to champion operators.
Meet the Expert
Marcia Doyle
Based on her 30-years-plus as chief editor of a construction equipment site, Marcia Doyle knows this about contractors: they don't understand lazy. Their success stories are carved out of sweat, a single-mindedness to perform for their customers, and an innate inventiveness. They deserve content that's concise, information-packed, and actionable, a mission she will continue as a BuildWitt contributor.
Join the thousands of Dirt pros who get our top workforce development tips.