What Is an Articulated Truck and What Does It Do?
Muck? Mire? Deeply rutted roads? The articulated truck eats these roads for breakfast. Well, not really, but it has no problem handling less-than-ideal road conditions.
Articulated trucks—also called articulated dump trucks, ADTs, articulated haulers, or just artics—excel in rough terrain. This is because they're made with a specialized drive system combined with an articulated joint (hence the name) that allows the front of the machine to move separately from the rear truck body.
All of this makes articulated trucks the hauling star of the Dirt World.
What is an articulated truck used for?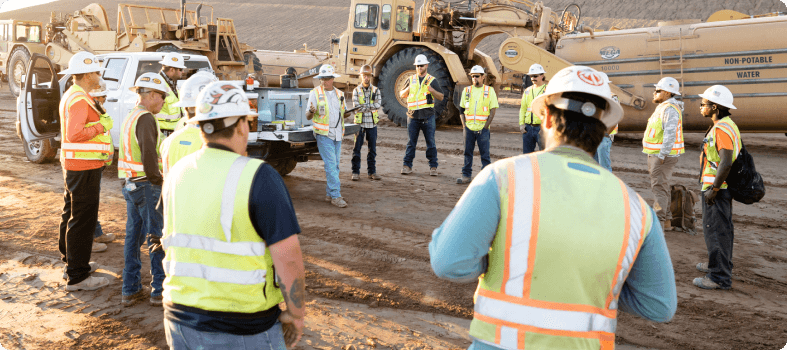 Loaded by wheel loaders or excavators, the basic job of this machine is to haul materials from Point A to Point B. Sounds simple, but the area between the two points can be deeply rutted, strewn with large rocks, have steep grades, or be straight-up swampy.
All of this is no problem for the articulated truck.
This ability to shrug off bad conditions makes this machine a valued team member in construction, quarries, mining, and forestry. In addition, its hauler body can be swapped out for specialized functions, including water tankers and container trucks.
What are the parts of an articulated truck?
There are three main parts of an articulated truck: the front tractor (or cab) that's mounted on the front axle, the articulation joint, and the rear hauling body that rests on two axles. All three axles are used to drive the 6x6 truck.
Front tractor (cab)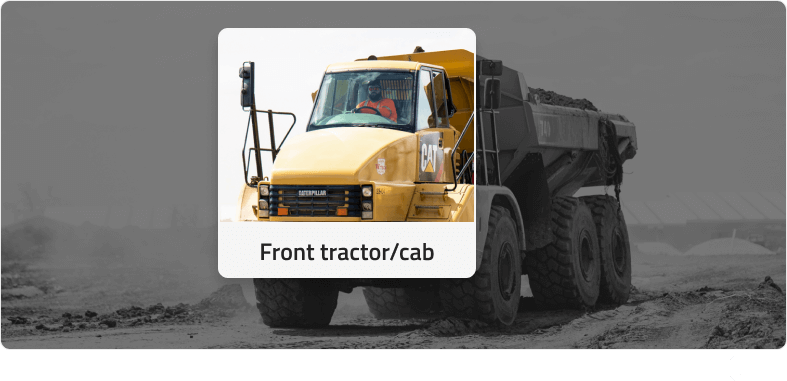 The cab sits behind and above the engine and above the transmission and front axle. Operators use a steering wheel, side controls, and foot pedals to maneuver the machine.
Articulation joint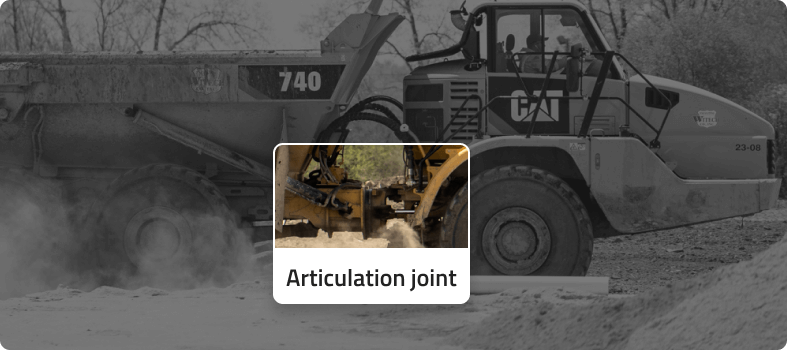 Also called an articulation hitch, oscillating hitch, or oscillating joint, this piece allows the hauler body behind the joint to both rotate and swing side to side on a horizontal plane independent of the cab.
When the machine turns, the front section turns first. It rotates at the articulation joint to form an angle with the rear body, which will follow the turn as driving continues and eventually realign with the front section.
Rear body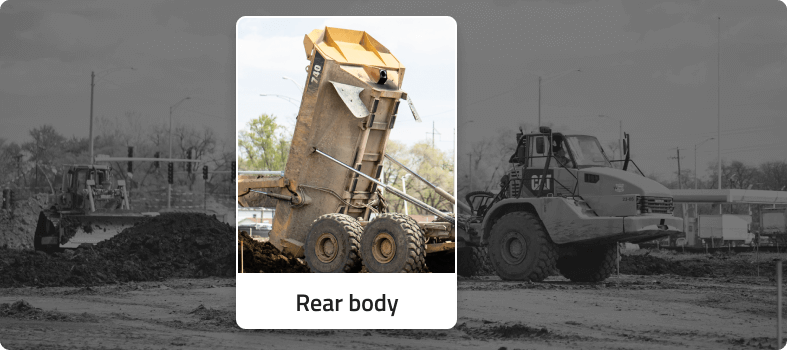 Most articulated truck bodies operate like a dump truck. They have two rear hydraulic cylinders that lift the body (also called the bed or bin) to dump materials behind the machine.
Cat also offers an ejector-type model that uses an embedded hydraulic cylinder attached to an interior blade to eject material without lifting the body. Ejector units are designed to offer safe dumping in height-restricted areas and can also spread material while moving forward.
Other parts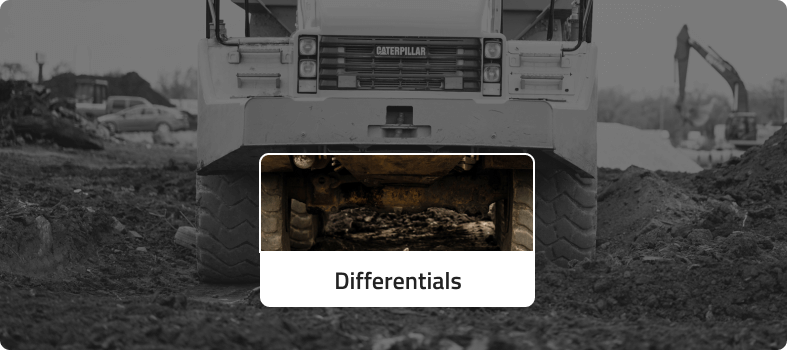 In addition to the three general parts above, the articulated truck's drive system is integral to how it operates. Differentials are centered on each axle, giving operators the ability to divide power between wheels on the same axle, alter torque, and allow wheels to turn independently. Differential locks, or diff locks, lock the wheels and make them turn in unison—which is useful in sloppy conditions.
Depending on the manufacturer, brakes may be located on just the front and rear axle, on the front and middle axle, or on all three axles.
Articulated truck sizes and manufacturers
Articulated trucks range in size from a payload rating of 20 to 66 U.S. tons with net horsepower from 160 to 700. These machines can move around 30 to 40 mph on the jobsite but are typically not seen on public roads. If you do see one moving down the road, it's likely to be the back of a flatbed semi that carries oversized loads.
Although many explored the concept, the first production articulated truck is generally believed to be the 10-metric-ton "Gravel Charlie." A precursor to Volvo Construction Equipment produced this model in the 1960s.
Today several manufacturers make articulated trucks, including (in alphabetical order) Bell, Caterpillar, Doosan, John Deere, Komatsu, Liebherr, Rhino, and Volvo Construction Equipment, which also offers the Rokbak (formerly Terex Trucks) brand.
Artics versus rigid frame trucks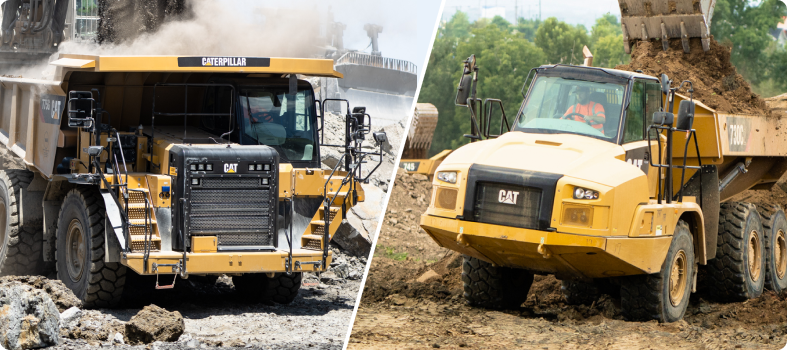 Articulated trucks are typically compared with rigid-frame haul trucks since both perform the same basic hauling function. Each machine has its place.
Rigid-frame trucks are just that: they have a rigid frame that offers a stable platform for hauling loads of earth, rock, and mined material. Because they don't have the flex or maneuverability of artics, they need to travel on prepared roads, which can prevent their use on some rough-and-ready jobsites. They also work best on grades of less than 15%.
The smallest rigid-frame units have roughly the same capacity as the largest articulated trucks, around 50 to 60 U.S. tons. And then rigid-frame trucks get big. Really big—up to almost 400 metric tons.
Articulated trucks are lighter, so they won't sink if your job has just gone through two days of heavy rain. The articulation joint allows them to maneuver through tight areas and make sharper turns. They can also work on grades of up to 35%.
Although small rigid-frame trucks are used by contractors on larger jobs with developed roads, most contractors opt to use artics, while mining companies prefer the larger carrying capacities and heft of rigid-frame units.
How to operate an articulated truck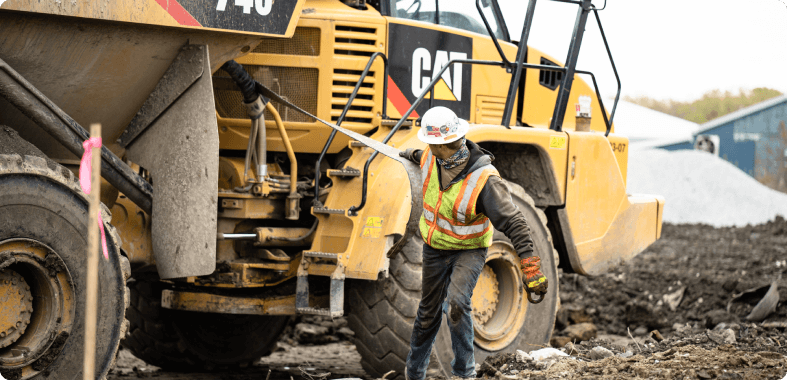 First things first: Wearing your personal protective equipment and do a walkaround of the truck, noting fluid levels, wear, and safety or maintenance issues.
When you get into the cab of an articulated truck, you'll see a familiar steering wheel, which will be your primary means of controlling the truck. Put on the seatbelt and position the seat to your liking.
The position of the control buttons, switches, and levers differ by manufacturer. Generally, though, you will find a key or push-button start, parking brake, lights, wipers, and controls for the transmission, body tipping, diff locks, brakes, and heating/cooling. (Unlike other construction machines, articulated trucks always have a fully enclosed cab.) A display will visually inform you about your speed, brake pressure, fuel level, oil temperature, warning alerts, etc.
Newer machines also have backup cameras. While this is a fantastic safety feature, always use your mirrors as well and maintain an overall awareness of what's going on around you.
Artic cabs are one of the few construction equipment cabs roomy enough to have a trainer seat to the left of the operator's seat. It's a great help to have a pro sitting next to you as you get the feel of the truck!
These trucks specialize in rough terrain, so operators are bound to have a bumpy ride. But manufacturers have paid attention to suspension systems to make sure the operator's ride is generally cushioned from the bumps, leans, twists, and grinds of travel, whether fully loaded or empty.
Operators sit high on the front axle, which gives them great all-around visibility of the two things they must constantly monitor: the road (or lack thereof) in front of them and the dump body behind them.
Different drive locking options help maneuver these trucks through muck and mire. Inter-axle locks keep all three axles moving at the same speed. Differential locks, or diff locks, enable the wheels on one side or the other to work in tandem.
The toughest conditions call for engagement of diff lock on all six tires. This setting should not be used in normal conditions as it leads to accelerated tire and drivetrain wear.
Articulated trucks have a combination of service brakes and engine, transmission, hydraulic, or exhaust retarders. Using the machine's retarder helps control downhill speeds and reduce service brake wear. You must use your service brakes, however, to come to a full stop.
Loading, hauling, and unloading
Articulated truck operators work in tandem with either an excavator or a wheel loader operator assigned to load the truck. The articulated truck operator, however, is responsible for making sure the truck is not overloaded by monitoring the weight of the materials in the truck bed as shown on the truck's display. Depending on the size match between the loading machine and the truck, it will usually take three to five passes to load an articulated truck.
To dump the body, come to a complete stop with the truck body straight behind you and activate the dump (or tipping) control. In newer machines, you can use the controls to start the dump, and the body raises automatically to a preset limit. Use the controls again to return the body to travel position.
Always be aware of the location of the body. Articulated truck bodies have been known to tip over, especially on side slopes or when driving at high speeds with an empty body. And never turn the truck with the body raised.
And there you have it. That's a quick overview of one of the more exciting machines on a construction site. Want more? Check out this article on another cool piece of equipment: the bulldozer.
Meet the Expert
Marcia Doyle
Based on her 30-years-plus as chief editor of a construction equipment site, Marcia Doyle knows this about contractors: they don't understand lazy. Their success stories are carved out of sweat, a single-mindedness to perform for their customers, and an innate inventiveness. They deserve content that's concise, information-packed, and actionable, a mission she will continue as a BuildWitt contributor.
Join the thousands of Dirt pros who get our top workforce development tips.