Your Questions About Working in the Dirt World Answered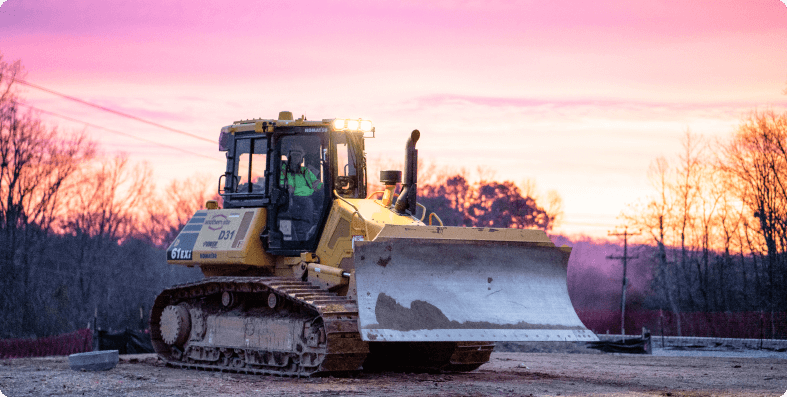 Any time you're considering a new career, you've got to find out what you're getting into.
We're answering some of the most common questions people ask about working in the Dirt World, like:
How much money will I make?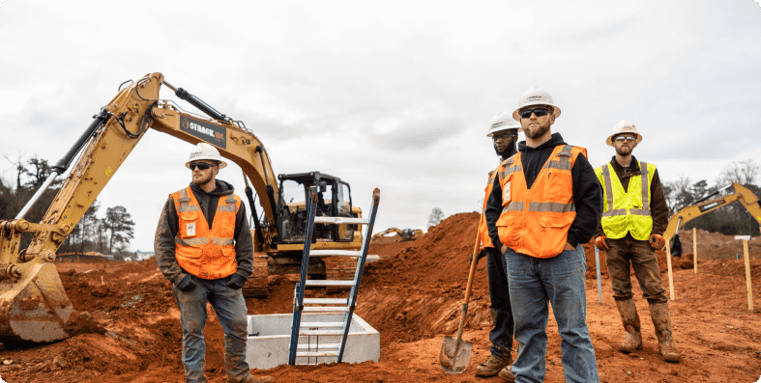 Different Dirt World jobs pay different amounts. But often, you can earn more money than the average American worker.
| Person | Average Hourly Pay (2022) |
| --- | --- |
| Average American | $331 |
| Construction Worker | $35-362 |
| Miner | $37-383 |
| Utility Worker | $474 |
Now, not all sectors of the Dirt World pay this well. For example, the average hourly pay for loggers is $24.5 So if you're looking for a hefty paycheck, you'll need to research which industries and roles have higher earning potential.
Here are the median annual salaries for some Dirt World jobs:
| Role | Median Annual Salary* |
| --- | --- |
| Laborers and helpers | $37,7706 |
| Pipelayers | $45,9807 |
| Construction truck drivers | $47,6108 |
| Operators | $48,2909 |
| Electricians | $60,04010 |
| Inspectors | $61,64011 |
| Mining or geological engineers | $97,09012 |
| Heavy civil construction managers | $100,31013 |
*Median salaries reflect earnings more accurately than average salaries. A few high (or low) salaries can make averages look higher (or lower) than they really are, but medians are the true midpoint.
Now, you can see that laborers earn less—which can be concerning if that's where you're starting out. But if you're willing to work hard, listen, and learn, you won't be a laborer for long. You can move up into a higher-paying position within a year or two.
What jobs can I get?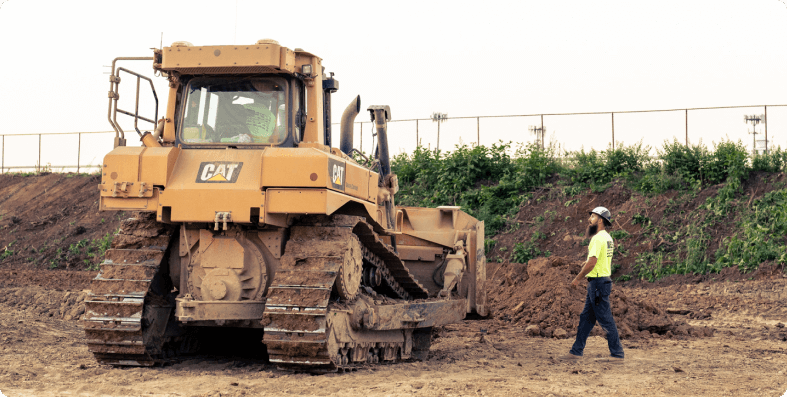 Great question! We've got a couple articles that talk about Dirt World jobs. Some roles we talk about include:
Engineer

Estimator

Foreman

Grade checker

Haul truck driver

Laborer

Operator

Pipelayer

Project manager

Office roles like administrator, HR manager, and safety trainer
Learn more about Dirt jobs you can get.
What if working in the Dirt World is too physically demanding for me?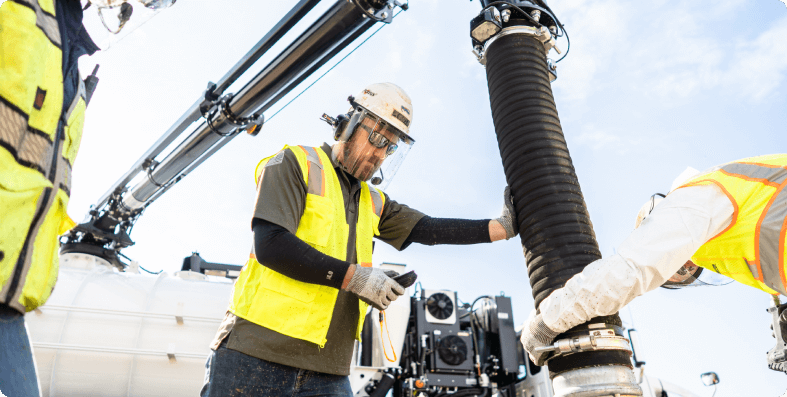 Working in the field can be tough, especially if you have physical limitations.
But that's not a dealbreaker. People of all shapes, sizes, and abilities build successful careers in the field.
Meet Dylan Taylor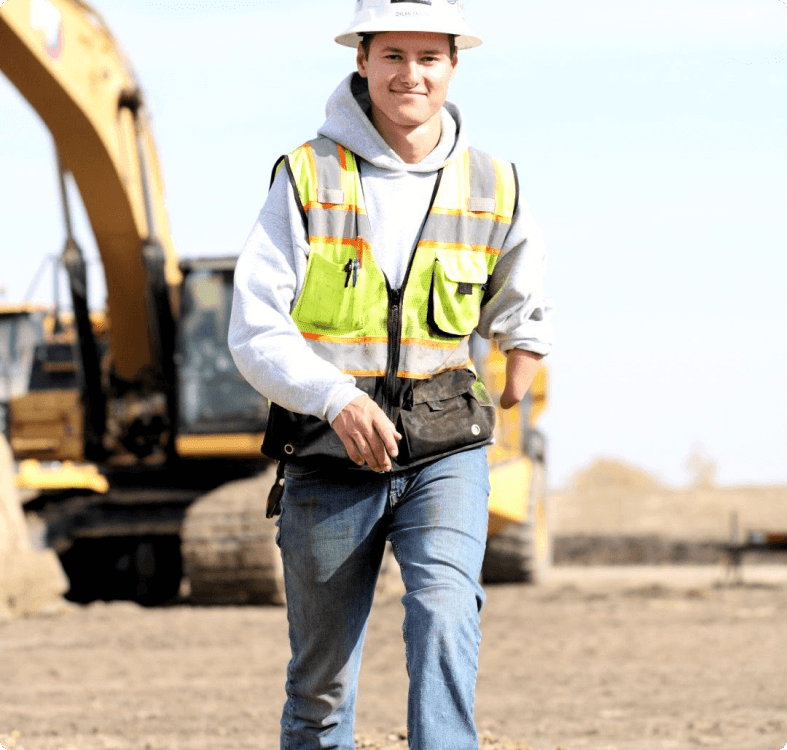 Dylan is a college student studying construction management. He loves running and playing sports, and he works in construction.
He also happens to be missing an arm and has a prosthetic leg.
Dylan recently told us his body can't take the intensive physical labor of working construction. But is he packing it in to work in the office?
No.
Dylan plans to join his local operators' union and become a heavy equipment operator after he graduates college. He believes getting field experience is the best way to become a great leader in the industry.
Dylan's advice?
"There's a spot for everyone in this industry. I've been in that situation, and I just landed a job with a contractor by simply being up front with the bosses and owner. I told them I have some physical limitations, but on the flip side, I have more drive and willingness to learn to offer than most. I was humble about my skill set, plus open about my limitations. They highly respected that and gave me the position without any hesitation." - Dylan Taylor
Whatever your physical ability, there's nothing stopping you from trying!
And if working in the field is too much, you can build a great career in the office. It's all about what works best for you.
What hours will I work?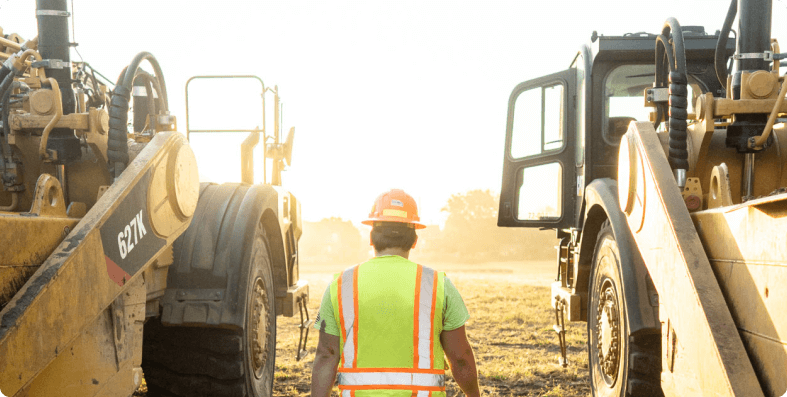 Blue-collar jobs can have some weird hours. You may work overtime, nights, or weekends for certain projects—like repaving a busy road in the summer. Some crew members self-report working 8-14 hours a day.14
Dirt jobs aren't as flexible as white-collar jobs. Crew members need to work together, so you may have fewer opportunities to set your own hours or work remote.
However, construction workers average 39 hours a week, and shifts are often 7 a.m. to 3:30 p.m.15,16 Many companies also give their employees regular weekends and are experimenting with flex-time.17
What's the working environment like?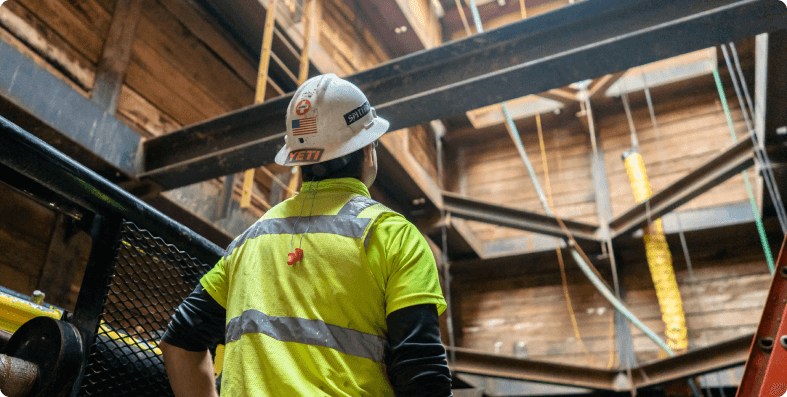 Working environment varies drastically depending on location and weather.
Location
Dirt World work happens everywhere, from the biggest cities to some of the world's most remote (and beautiful) places.
You can work a field or office job in your local area. Or, you can work on a field crew that travels to different locations around the country or even the world.
Keep in mind, traveling can take you away from home for several months, so confirm whether your family is okay with that before you sign on.
Weather
Field work is outdoors in heat, cold, and anything in between. So you'll need to pay attention to the weather and get the right gear, like:
Comfortable, waterproof boots
Warm winter clothes and cool summer clothes
Sun-protective gear, like neck coverings and tinted safety glasses
Water bottle
Most companies do give "rain days." So unless the weather turns unexpectedly, you won't work in thunderstorms, blizzards, or other extreme weather.
What are the risks?
Working in the field can be risky—but you can take steps to keep yourself safe.
Physical risks
In 2020, 7.3 million people worked in construction.18 They reported 165,300 injuries and 1,008 deaths on the job—meaning 2.2% reported an injury and 0.01% died.19
Those don't sound like huge numbers. However, they are huge for the individuals and families those incidents affected.
Construction is more dangerous than most jobs. Construction fatalities accounted for about 25% of U.S. workplace fatalities that year.20 And that doesn't include other Dirt World sectors mining, logging, or utility work.
The fact is, you will face some physical risk working around heavy equipment, mountains of dirt, boulders, and other hazards.
Mental risks
Dirt World workers sometimes struggle to maintain their mental health—whether that's due to long hours, travel, workload, or physically demanding jobs.
Miners and construction workers are more likely to drink heavily than people in other industries. And from 2008 to 2012, 13% of construction and mine workers reported having a substance-use disorder.21
However, these risks are not guarantees. Millions of people work long, successful Dirt careers without suffering a serious injury or struggling with addiction.
Mitigating risks
So don't let the risks deter you if this is what you want to do. Instead, do your part to stay safe. You can mitigate the physical and mental risks of the job when you:
Look for a safety-oriented company. When you interview for jobs, ask about the company's safety training programs. They should be able to tell you all about the regular, up-to-date safety training they have in place. If they can't, skedaddle.
Wear personal protective equipment (PPE) and follow safety protocol. You are responsible for your own body on the job. Wearing PPE even when it's uncomfortable and following safety protocol even when it seems unnecessary are two of the best ways to protect yourself and your loved ones from the consequences of a workplace accident.
Look for a company that values people. Ask your interviewer how they respond when workers need help managing their mental health and how they promote mental wellness. If you know someone who works at that company, ask them, too.
Find a community. Every person in every industry needs support from family, friends, and co-workers who value mental health, sobriety, and safety.
Remember, accidents and widespread mental health problems aren't the norm at every company. And good companies strive to protect their people. Look for those companies, and don't settle for less.
What are the people like?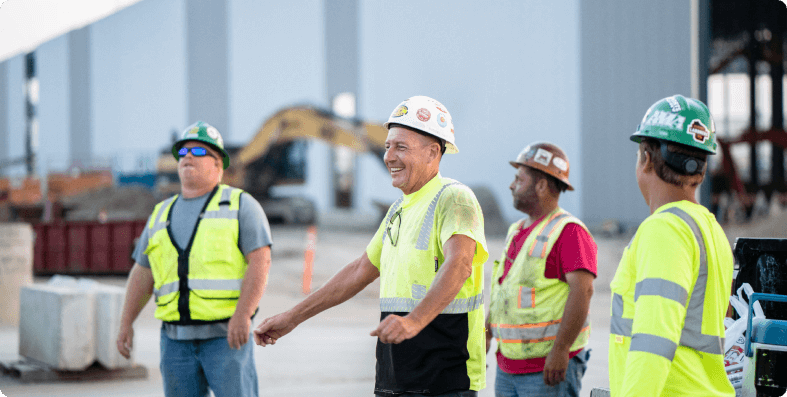 Speaking of people, there's a myth that blue-collar workers are all grouchy old men who swear and tell dirty jokes. Thankfully, that's not true.
Overall, Dirt World workers are some of the humblest, kindest people you'll ever meet. They take great pride in their work, and many enjoy sharing their years of expertise with new workers like you.
Meet some people who work in the Dirt World and see what they're all about.
Do I need a college degree to work in the Dirt World?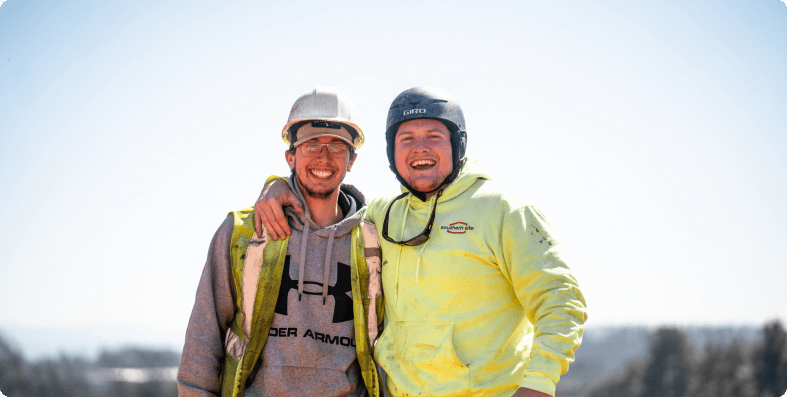 Nope! Anyone can work in the Dirt World, regardless of their education level.
In fact, some very successful people in the Dirt World didn't finish high school. Randy Blount's dad didn't graduate, yet he ran a multi-million dollar company called Blount Contracting.
Now some jobs—like engineering—do require a college degree. For others, degrees are helpful even if they aren't required.
For example, Randy didn't need a degree to join the family business. But he applied what he learned in college and grew his dad's company from $4 million in yearly revenue to $40 million.
So to recap: college can be helpful, but it's not a requirement for most jobs . . . including owning your own business. And in most jobs, your income won't be capped because you lack a degree. Your earning potential is based on your work ethic and willingness to learn—not a piece of paper.
What if my family doesn't want me working in the Dirt World?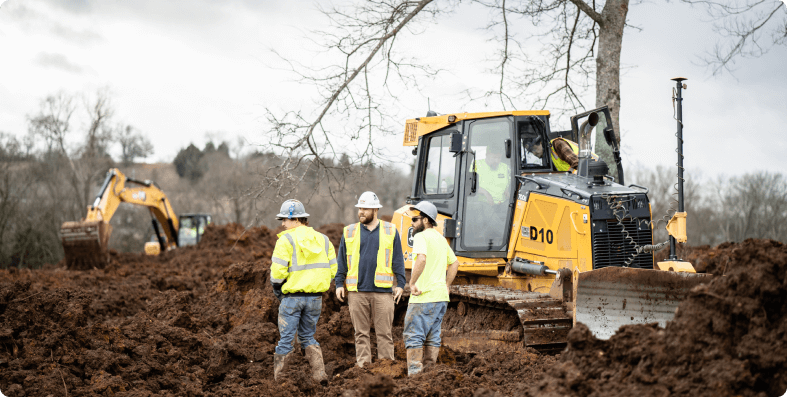 We all want our families to be proud of us . . . so what happens when they've bought into negative perceptions of the Dirt World?
A recent poll from the National Asphalt Paving Association (NAPA) shows how people view the road construction sector:
| Perception | Educators | General Public |
| --- | --- | --- |
| Road construction is dirty and labor-intensive. | 55% agree | 47% agree |
| Road construction is dangerous. | 48% agree | 42% agree |
| I would recommend road construction as a career to my student/child/relative. | 51% agree | 40% agree23 |
People you trust—like teachers, parents, and family friends—push college because they think paving is dirty and dangerous.
But those poor perceptions aren't accurate. After people learn positive information about road construction, they start changing their minds:
| Perception | Educators | General Public |
| --- | --- | --- |
| Road construction is dirty and labor-intensive. | 38% agree | 38% agree |
| Road construction is dangerous. | 32% agree | 35% agree |
| I would recommend road construction as a career to my student/child/relative. | 70% agree | 60% agree24 |
Now, this survey was just about road construction. However, people have similar attitudes about other types of construction, as well as mining, logging, utilities, sanitation, and other Dirt work.
So the important people in your life will likely come around when you explain the benefits of your career choice.
If you need some help convincing them, have them read our article called Why Build a Career in the Dirt World.
Takeaways
You'll naturally have lots of questions about starting a career in a new industry. So let's recap the important answers we covered:
Most Dirt workers make at least $2 more than the average American.
You can choose from a variety of jobs in the field and office.
You'll never know if you can physically do the work until you try.
Hours depend on the project and season, but expect lots of early mornings.
You'll work in all kinds of locations and weather.
There are some risks, but you can take steps to mitigate them and find a company that values safety.
People in this industry are awesome!
You don't need a college degree for most Dirt jobs—although sometimes it helps.
You can often win your family over by showing them the benefits of a career in Dirt.
We hope this helps!
To start looking for your dream career in Dirt, create a BuildWitt Jobs profile. You'll be able to search job openings, apply for positions you want, and learn about some of the companies that make this industry special. And it's all free!
Location: Learning Hub
Funnel Step: Awareness
Subcategory: Entering the Workforce
Big 5: Comparisons/Is it right for you?
BW Solution: Generic
Category: Dirt 101
Entering the Workforce
Dirt 101
Learn more on how about Dirt World careers