St. Louis with Bob Chapman, Anxiety, and a Monster Liebherr Excavator in the Boston Harbor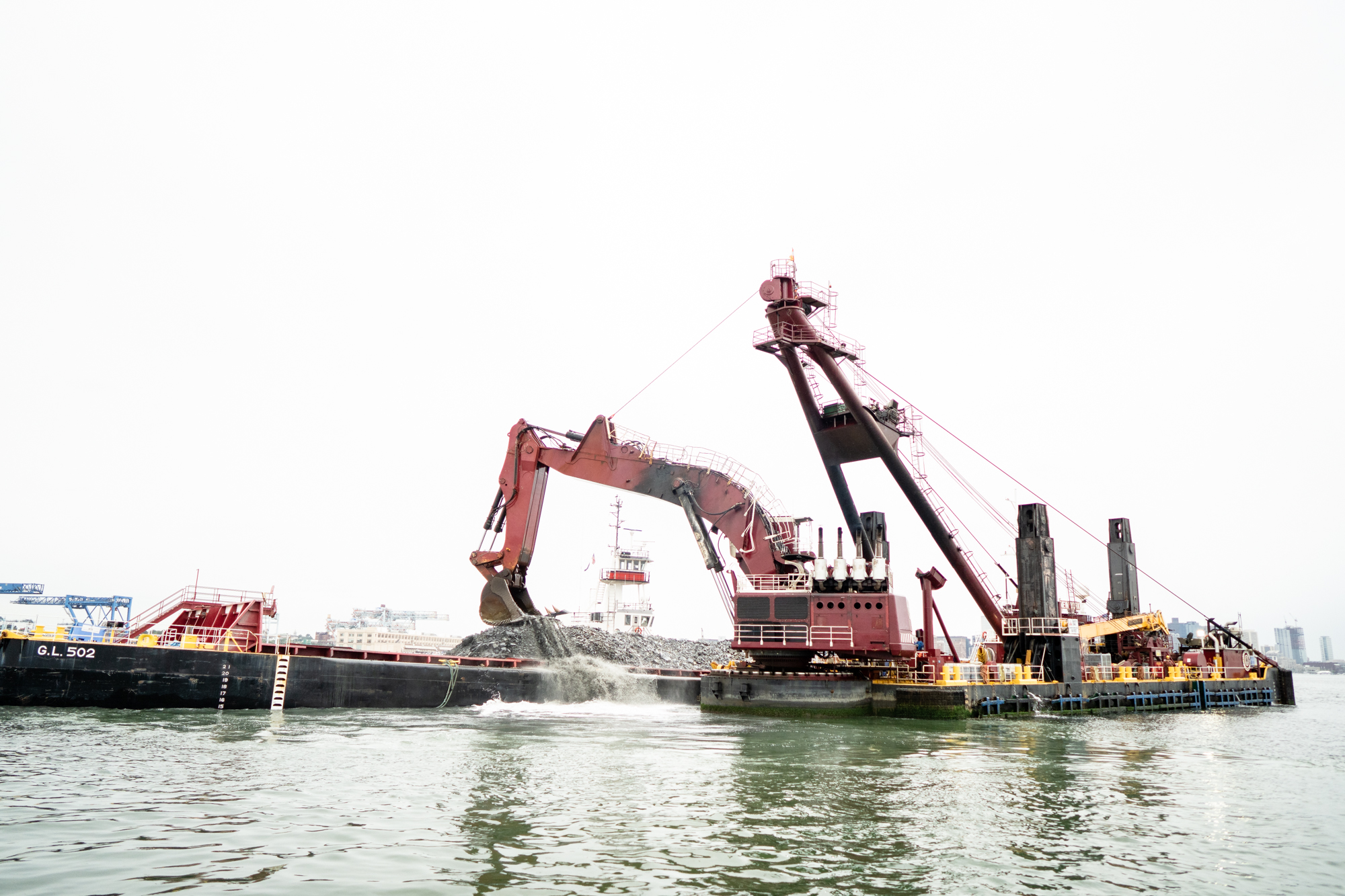 Read on to learn…
Who does and doesn't recommend their employer, how meeting the author of my favorite business book was, and why I had a visit from my old "friend" anxiety.
This Week's Workforce Poll
I posed the question "do you recommend the company you work for" to my social media audience, and after over 1,000 votes, the results are in:
I followed the poll with the question, "why, or why not?"
After combing through hundreds of responses, here's what your workforce had to say:
Good
They keep me close to home
Clean equipment
They help me a TON personally
Active senior leadership
Good work/life balance–I can find more money anywhere, but not balance
They care about us
Culture… It's like getting to hang out with my friends every day
Bad
No defined values or a mission
Treat their employees as if they're replaceable
Poor office-to-field communication
They speak about caring for people, but their actions say differently
Decision-makers are disconnected from the reality of the company
No recognition of a job well done
Lack of trust and vision
Travel Update
Earlier this week, I flew to St. Louis for a 30-minute meeting.
About two years into the business, I read a book called "Everybody Matters," written by Bob Chapman, which completely changed my perspective on people and our company's role.
In short, the book is about how Bob grew a small manufacturing business into a multi-billion dollar global behemoth with 15,000 people. His secret? Not business acumen, but genuinely caring for people.
How can I care more deeply for the people I lead? How can I inspire the construction industry to do the same? Those were the questions I wanted to ask Bob face to face, and thanks to a mutual friend, I weaseled my way onto his calendar.
During our meeting, he quickly pointed out that construction doesn't have a recruiting problem—we have a caring problem.
Instead of treating humans as inputs to create outputs, as our industry historically has (think about how we quantify people as one line item, labor), we must deeply care for, love, and trust them.
Everyone's looking for an easy workforce fix, but there's no such thing. Until every leader in the Dirt World looks at themselves in the mirror and decides to dedicate themselves to caring for their current workforce, our problem will persist.
I couldn't recommend Everybody Matters enough if you haven't read it. It's the playbook to solve the Dirt World's people problem, and we will do our part to inspire the necessary change.
Business / Life Lesson Learned
Until a few years ago, I had never experienced anxiety. I thought it was nothing more than people getting worked up about nonsense.
Then I started a business…
In early 2019, anxiety pounced. It wasn't only a mental fog but a physical presence, as if something were sitting on my chest. I couldn't shake it, so I started running more frequently and going to therapy for the first time.
Fortunately, I haven't had much anxiety this year, but the financial stress of our Series A investment round this week got the best of me.
Anxiety isn't any more fun today, but thanks to the work I've put in learning about myself and my past through therapy, I have the tools to cope, unlike in 2019. I've learned to process my anxiety and use it as an indicator for action. There can't be good days without the bad.
I talk about my anxiety to signal to our "tough guy" industry that feeling down or anxious is ok and that they're not alone. The response is always overwhelming, with hundreds of people reaching out in the past two days alone.
If you're frequently or occasionally anxious, seek someone to help you work through it. It's not fun, but it becomes much more manageable once you have the tools to cope.
Vlog
This week on the vlog, we visit Great Lakes Dock and Dredge to see their monster Liebherr excavator digging rock in the Boston Harbor.
While we shot this video last fall, the editing and approval process took a bit… I hope you enjoy learning what it takes to deepen a harbor for around-the-clock ship traffic!
Podcast
On Dirt Talk, I talk with Will Schuler, who started a construction company at age 16 and only four years later has 50 people working for him. It's a wild story!