Problems BuildWitt Training Can Help You Solve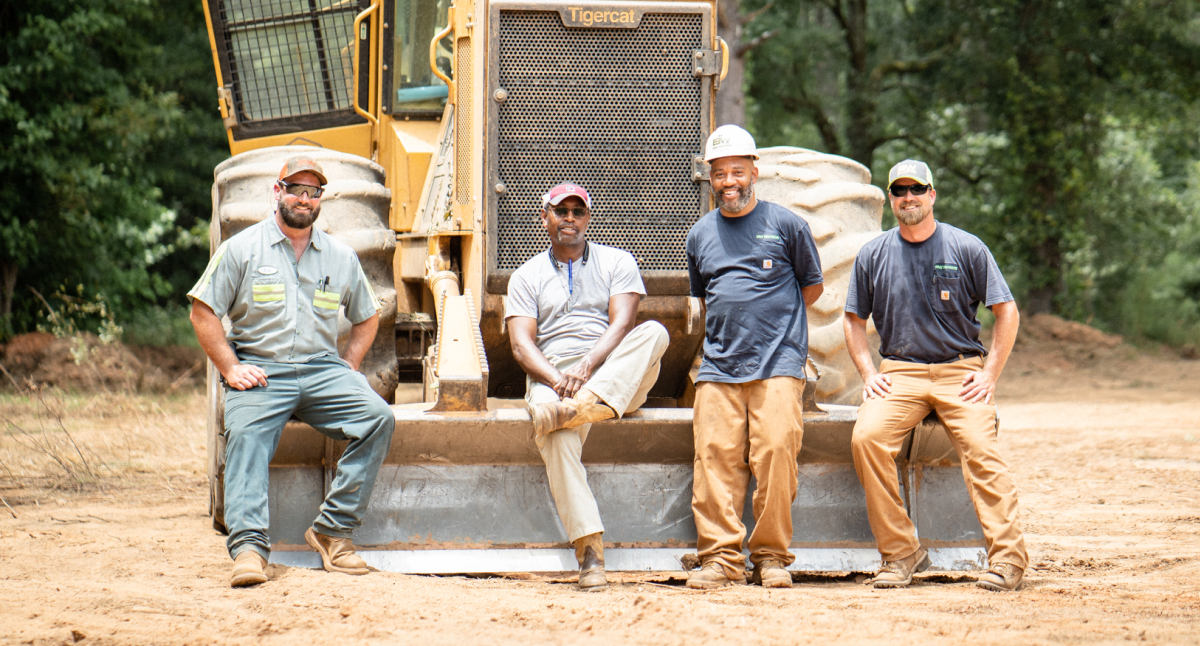 You know the Dirt World has a serious people problem—and by now, you can likely see that there's a serious training problem at the root of it.
Good training software can help you attract, develop, and retain a strong workforce by creating a culture that makes people want to stick with you for the long haul.
BuildWitt Training is software that's designed for the Dirt World and its unique training problems. We created this software in 2022, and within a year, over 170 companies were using it to solve their workforce and training challenges.
1. Getting new hires up to speed safely
Most Dirt World leaders know what it's like for their workforce to be stretched thin—and how that affects new hires.
As one operations manager told us, "We're always so lean when we're training in the field that new guys never get to see full production. We make the new team member a part of the crew instead of observing an efficient crew."
There are few things scarier than putting new hires into crucial roles before they've had the chance to train fully . . . or at all. It's dangerous and leads to expensive mistakes.
BuildWitt Training's onboarding courses help get new hires productive quickly and safely. They'll learn things like:
Safety basics

Day-to-day job tasks

General industry knowledge

How to act professional on the jobsite
Whether your new hire has 10 years of experience or 10 minutes, they'll get the training they need to start off on the right foot with your company.
2. Training spread-out teams
Expanding into new markets is exciting. Figuring out how to train your crews when they're hundreds of miles apart . . . not so much.
You need to be able to quickly and easily share training content with the whole company. With BuildWitt Training, you can. You can also assign training content by role, jobsite, or other groupings—so everyone gets the right lessons at the right time.
Plus, the software can send notifications to crew members and field supervisors right in the app. No need trying to convince people to check their emails anymore!
3. No up-and-coming leaders
The construction workforce is aging, with 41% of them slated to retire by 2031.1 With so many experienced crew members leaving the workforce, you're going to lose a lot of foremen and field supervisors.
Ryan Delozier, President of Geotex, says, "We have a bunch of guys who are 60 something and then we've got a bunch of guys who are 20 something. There's some guys missing in the middle. Who's gonna be our next foreman? None of them are ready."
That's why Geotex and many others use BuildWitt Training. Our leadership training course provides over 100 lessons from Dirt World and leadership experts like Jocko Willink, Wally Adamchik, Dave Turin, and more—so your crew members can learn from the best. Then they'll be prepared to step up and lead when you need them to.
4. Ineffective training
People often ask us, "How do you springboard off initial training?" and "How do you make sure people retain what they learned?" In other words, they want to know how to make training effective for the long haul.
And let's face it: creating a consistent, long-term training program can be a struggle. Maybe you don't have time to train during the busy season, so you only train on rain days. Maybe you've tried training, but your team just doesn't seem to "get" it.
That's because training won't work if it's just once a year or once a month. It takes consistency and repetition to help people absorb the material. You need a consistent training program with lessons your crew members can actually retain.
You can create that type of training environment with these BuildWitt Training features:
Large content library. With nearly 800 preloaded lessons, you've got enough material to assign weekly or even daily content to your team—making your training program much more consistent.
Microlearning. These short lessons (typically five minutes or less) make it easier for crew members to retain what they've learned and apply it effectively on the job. Most lessons also come with built-in quizzes to help you make sure your crew members retain what they learn.
Custom content. If there's something we haven't covered, you can upload your own custom training content for free to make sure your team knows how to work your way.
Crew members can watch any training video as many times as they want—even if it wasn't assigned to them—at no extra cost. So if somebody on your team is hungry to learn and grow, they'll finally have the freedom to take ownership of their training.
5. Inconsistent company standards
In the Dirt World, it's easy for things to get lost in translation. People have different ways of talking about things, different ways of doing things, and that can create a lot of confusion about whose way is best.
Then there's the added problem of unclear expectations—when leadership hasn't communicated exactly what the "right" way of doing things is.
You must standardize training across your company so your employees all know your way of working, as well as how to communicate with each other on the jobsite. That in turn increases productivity, improves relationships and morale, and decreases turnover.
With BuildWitt Training, you can use the preloaded content to help you set overall standards. Or, upload your own content to make consistent standards that are specific to your company.
6. High turnover
We surveyed over 600 Dirt World workers and asked what one thing would improve their job satisfaction the most. The second-most popular answer (right after "a pay raise") was training.
Your crew members crave training. They want to know how to do a good job—but over 60% of them told us the training they receive stinks. (Another 20% said they don't get any training at all.)
That means four out of five Dirt World workers don't have enough training to do their jobs safely and effectively. That's nuts! How many accidents has that lack of training caused? How much productivity and revenue have been lost? How many bids?
What's more, how many people have quit their jobs and gone looking for an employer who will give them the training they need? Training is one of the biggest reasons for high turnover.
BuildWitt Training provides all types of training to keep your crews engaged and better prepare them for their jobs—at any experience level. Training options include:
Leadership

Safety

Onboarding for new hires

Industry basics

Job-specific training for f

oremen and field supervisors

,

g

rade checkers

, l

aborers

, o

perators

, p

ipelayers

, and s

urveyors
7. Divisions on the team
There are lots of reasons teams may not work efficiently together.
Maybe Jim was a great operator, but as a foreman, he struggles to motivate people and tries to solve the problem by yelling. Maybe experienced employees think the "young bucks" need to earn their place—and younger employees think the "old dawgs" need to get with the times. Maybe some crew members speak different languages and have trouble understanding what their leaders want.
You can use BuildWitt Training to help overcome divisions on your team. Leadership training can teach foremen and even crew members in non-leadership roles the soft skills they need to communicate well and resolve conflict.
Setting consistent, company-wide training standards helps build unity, because it isn't about the "old way" versus the "new way" anymore. It's just about the right way.
Additionally, all preloaded BuildWitt Training content comes with Spanish subtitles to make it easy for Spanish-speaking crew members to complete training and learn the job-specific skills they need.
And if you have crew members who speak other languages? You can add subtitles to your own custom content, so everyone can learn in the easiest language for them.
8. Workforce shortages
As we mentioned earlier, workers are retiring from the Dirt World in droves. And most companies have no plans to replace them. Worse, there are few to no entry points into the industry, making it difficult for people who want to start working in the Dirt World.
All that combines to put too much work on too few people—and that problem is only getting worse as workers retire and quit.
You can help resolve these workforce issues with BuildWitt Training. It's made to help you train up the next generation of the workforce. And when potential recruits find out that you're willing to help them get their foot in the door and invest in their growth, they'll want to work with you for the long haul.
Takeaways
BuildWitt Training is software that's designed to help you overcome eight of the Dirt World's most pressing workforce challenges:
Getting new hires up to speed safely

Training spread-out teams

No up-and-coming leaders

Ineffective training

Inconsistent company standards

High turnover

Divisions on the team

Workforce shortages
Onion: BuildWitt Training Aware
Location: Training Hub
Funnel Step: Convert
Big 5: Problems/Problems we Solve
BW Solution: Training
Category: BuildWitt Training
Topic: How It Helps
Subcategory: Training Software
BuildWitt Training
How It Helps
Training Software
Give your team members a clear path to succeed and watch them grow
Join the thousands of Dirt pros who get our top workforce development tips.