Train Your Equipment Operators, Save Thousands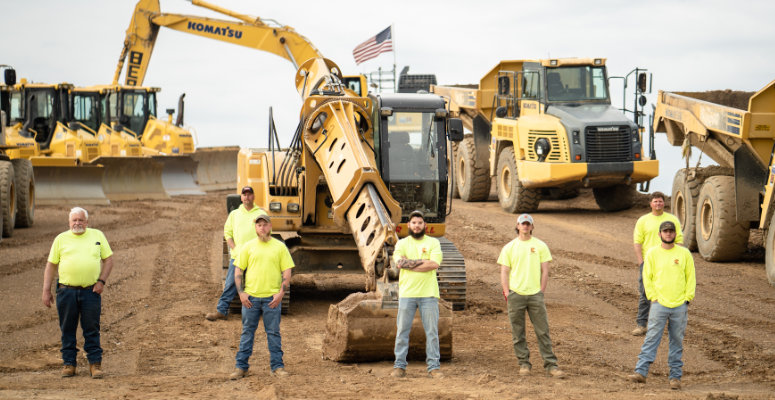 We all need to save money.
The Construction Financial Management Association reports that the average pre-tax net profit for general contractors is between 1.4 and 2.4 percent and for subcontractors between 2.2 to 3.5 percent.1 With unforgiving margins, every penny saved is a penny earned. But how can you save money when you're already working lean crews and long hours?
That's where limiting downtime comes in.
Downtime is a dirty word
Downtime is a dirty word, and we don't mean that in the good-dirt way. Downtime—the time when a job is delayed—is a death knell for your budget.2
To begin with, there's the cost of paying your employees when they're not working. That can be from $40 to $200 or more per hour, depending on how big the pool of affected employees is and what their wages are.
There's the cost of replacement machinery, which might start at $100 per day, but can quickly climb into the thousands.3
And there's the cost of time on the job, which is harder to calculate but might be the most important because companies look for contractors based on reliability.4
Think of downtime as bleeding money. You want to do everything in your power to prevent it.
Calculating schedule delays depends on the job's size, initial schedule, and margins. But the basic principle is this: the longer you take to do a project, the less you pay yourself. If you take too long, you might not make any money at all.5
And after you calculate all these expenses, you still have to address the repairs necessary to bring your equipment back up and running.6
Think of downtime as bleeding money. You want to do everything in your power to prevent it.
One of the biggest things you can do? Take care of your equipment.
Identify the causes of downtime
There are lots of causes of machine downtime, but most of them are preventable.7 One Northeast heavy equipment Cat dealer lists the causes of downtime in this order:
Lack of proper training

Skipping service visits

Pushing equipment too hard

Improper storage of equipment8
Want to eliminate downtime? Train operators to take care of their equipment.
You read that right, and we're biting our fists, too: lack of training is the number one reason for lost time on the job. And what's more, it doesn't take rocket science to fix it—it just takes a little time.
Train your operators, and save thousands
With BuildWitt Training, you can save thousands of dollars in downtime by teaching employees proper equipment care. For a fraction of the cost of downtime, you can train your operators to go from 'ok' to 'excellent' with simple, practical steps.
Using BuildWitt training for operators can have a direct, positive impact on downtime.
Our operator course takes learners through short, lively lessons that explain the importance of doing walkarounds, machine systems checks, and keeping records. Real operators teach every lesson with hours of seat time, and they don't just talk at the camera—they show learners what to do on actual jobsites.
We're not saying that eliminating downtime can be done overnight, nor that training is the one solution. A culture of ownership will play a big part in your team's overall success with training.
The truth is, training has been a missing piece of many companies' employee-performance puzzle. There's been a shortage of training in the construction industry for decades.9 Business owners can provide learning opportunities but can't take the initiative for individuals. And operators can't be expected to out-perform training that may be less than ideal.
But now there's a better option—BuildWitt Training. It's training that's expressly designed to save you money by teaching operators the basics of daily equipment care.
If you've been bleeding money because of machine downtime, it's time to train your operators. Check out the operator learning plans in our course catalog.
Problems It Solves
Onion: BuildWitt Training Aware
Subcategory: Training
Location: Training Hub
Funnel Step: Convert
Big 5: Problems/Problems we Solve
Symptom: Machine lifetime
Category: Investing in Your People
BW Solution: Training
Problems It Solves
Training
Investing in Your People