Top 5 Reasons Your Peers Use BuildWitt Training
Running a business comes with a slew of training and workforce challenges: How will you train crews when they're far apart? Where will your next leaders come from? How will you share the company standards with everyone?
The list goes on. You can try to find a solution for every single problem . . . or you can find a way to solve a lot of problems at once.
Many of your peers in the Dirt World use BuildWitt Training to solve these and other workforce challenges. Take a look at the top five reasons they chose this software—and the top five signs that it just might work for you, too.
01
Your teams are spread out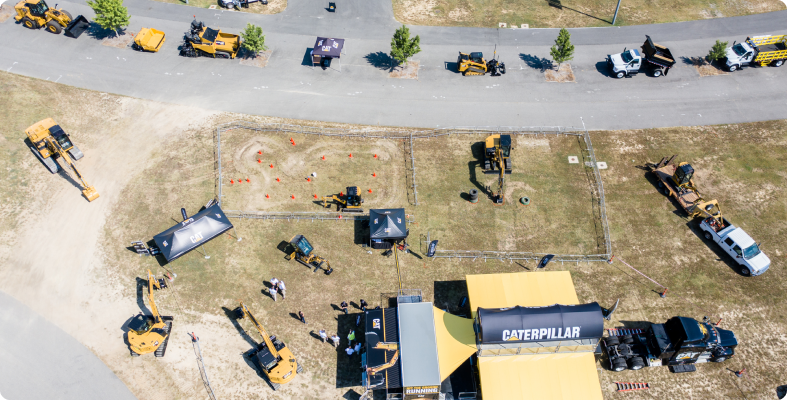 Environmental service company Dragonfly Pond Works has branched out into new markets. Now that they have crews in multiple states, it's hard to train in-person.
Mickey St. Clair, Dragonfly's Division Operations Manager, says "We're in Florida. We're in Atlanta, we're in Raleigh, we're in Charlotte. So with all those different areas everyone can't come together every month."
That can create a disconnect in training and company standards. And even if your spread-out team does get together, the cost of these face-to-face meetings can really start to rack up.
Andrew Goldman Excavation hosts toolbox talks on Monday mornings. Chief Operating Officer Michael Suddes says these meetings cost the business a lot of money because "it's in-person at the headquarters, and you might have to drive for an hour and a half . . . to your jobsite [afterward]."
How BuildWitt Training helps spread-out teams
This software makes it easy to train crews who are hundreds of miles apart as if they're a small team—no travel required. You can just assign video lessons in the app, and you're good to go.
As Jim Rhodes, Vice President of Civil and Infrastructure at Wayne Brothers, puts it, "The BuildWitt platform was our attempt to get us all back in that same room again."
With BuildWitt Training, every crew at every jobsite has access to the same lessons. That helps you teach clear, consistent standards across the whole company—which in turn creates a consistent experience for your clients in all the markets you serve. That's how you build a good brand reputation.
You can also assign lessons to the whole company, groups, or individuals—making it easy to get the right information to the right people.
Let's say you need to share a new policy document or safety video with everyone in the company. With BuildWitt Training, you can do that. Need to send task-specific training to your grade checkers? You can do that, too. What about sending a message to people at one particular jobsite? Yep!
And since notifications go straight to their phones, you don't have to worry about trying to get your crews to check email (or get email accounts to start with).
02
You need to start training the next generation of leaders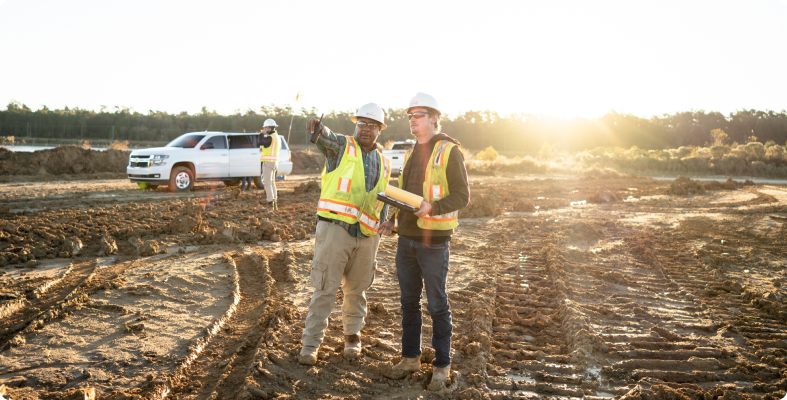 At Ohio-based company Geotex Construction Services, there's a big generational gap.
"We have a bunch of guys who are 60-something, and then we've got a bunch of guys who are 20. There's some guys missing in the middle. Who's gonna be our next foreman? None of them are ready," says President Ryan Delozier.
Nick Pickrel, President of another Ohio company called Kingsway Services, is facing a similar leadership shortage.
He explains, "It takes six to seven guys on one crew who kind of know what they're doing [before we can expand] from one crew to two. That's a big jump. And so we're trying to start now with developing those guys."
Both companies chose BuildWitt Training to help them raise up their next generation of leaders. The content library includes over 100 leadership lessons from experts like Jocko Willink, Wally Adamchik, Dave Turin, and more.
What's really helpful is that these leadership lessons help retention and work for crew members at all levels. You can use them to:
Teach up-and-coming crew members how to step into leadership roles

Help current leaders improve their skills and move up to the next level

Onboard new hires so they start learning essential leadership skills on day one
03
You want your crew to take more ownership of their training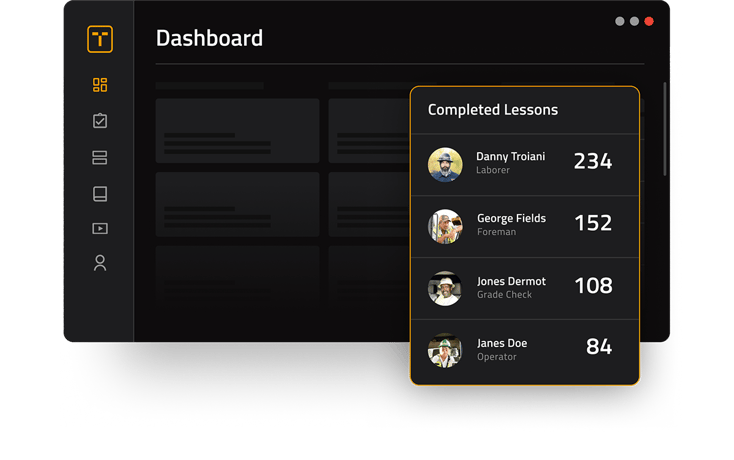 Sure, you can assign training content and nag people to do it, but where's the value in that? While you should keep tabs on who does what training, you don't want to babysit your crew members. They're adults.
So, companies like Kingsway are giving them the opportunity to act like it. They use BuildWitt Training because it lets crew members take training into their own hands. They can dive into the content library anytime, anywhere. And more people will do that than you might think.
In our recent workforce survey, we asked construction workers what one thing would improve their job satisfaction the most. The number one answer was a pay raise. But you know what they wanted most after that? More training.
Your crews want to learn, and you want them to learn. So give them a platform where they can do that.
With BuildWitt Training, they don't have to wait for a classroom session on a rain day. They can learn the skills they need in five minutes on their lunch break, or even on their couch on Saturday afternoon. They can even watch courses you haven't assigned to them yet—so if somebody wants to go above and beyond, they're free to do that. And that's great news for you.
Using BuildWitt Training to see who wants to grow
As an administrator, you can use the training dashboard to easily spot who on your team is hungry to grow—and who needs a nudge in the right direction. This helps you make sure no one gets left behind. Best of all, it helps you spot your next generation of leaders.
As Nick from Kingsway puts it, "We're wanting to use [BuildWitt Training] as a metric to see who's hungry and who's not."
When he sees who's doing the most training and learning on their own, he knows those people are willing to work hard and are learning the skills they'll need to move up in the company.
Oh, and one more perk: letting your crew watch extra training videos doesn't cost anything. That's because BuildWitt Training customers pay by user—not by the number of videos people watch or the number of "training credits" they use.
04
You want to store and share your way of working in one place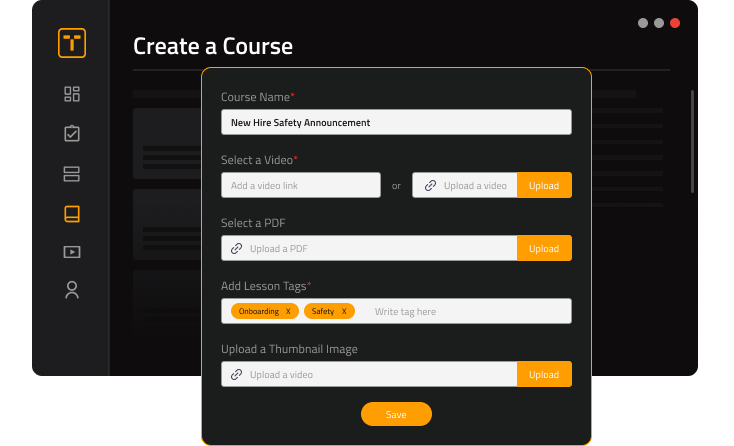 We've talked a lot about the training content your peers use and what it can do for you. But the truth is, there are some things that only you can teach your crew.
That's why BuildWitt Training comes with a twist: you can create and upload your own content. As much of it as you want. At no extra cost.
"You can see how useful it can be and the potential of it. Especially with us being able to upload our own content and edit what we want," says Travis McLeod, HR Manager of Birnam Excavating.
After all, nobody works quite like you, so you need to be able to teach your crews how to do the work your way. BuildWitt Training lets you create your company's standard practices by uploading lessons that are all your own.
Uploading content is super easy. Any training admin can simply snap a quick video on their phone, drop it into the training platform, and send it out to the crew. (Or you can make a training film so high-tech it would make Steven Spielberg jealous. Your choice.)
All the lessons you upload will stay in your content library right alongside the preloaded courses, so your crews can access all the training they need in one place. Best of all, anything you post stays private—only people in your company can see it.
How Kingsway is creating their own content
Kingsway sometimes struggles to train workers on tasks that are specific to their company, like how to use the timeclock.
"So we're going to create instruction videos for these basic things. That way when so-and-so says for the tenth time [they don't know how to do it], it's like, 'Just learn how to go watch this video, and you'll learn how to do that,'" Nick explains.
Adding your own content to BuildWitt Training also helps keep costs down. Once they've invested in creating a training video, Nick says, "Then we've captured it, you know? We don't have to do it 50 times."
Types of content you can upload
You can upload your own custom content in many different forms, such as video lessons, documents, and quizzes to make sure your crew is really getting it.
Wondering where you should start? Here are some more types of content your peers like to add to their training libraries:
Real-time safety updates from the jobsite

Lessons that foremen usually need to repeat to new hires

Company culture and core value lessons

Company policy documents

Content to supplement what's in a preloaded course

Content the preloaded courses don't cover (like handling chemicals or specialty equipment you use)
For example, maintenance workers at Dragonfly deal with pesticides. So, Mickey says, their content will address common questions like, "How do you identify this plant? What chemical do you use on this plant? How do you know what rate to use to not kill fish?"
They also plan to add content about mower safety, fuel mixtures, and even sales lessons to help customer service reps talk to clients properly.
How much content you can upload
When it comes to creating custom content for your business, the Director of Safety and Employee Development at Evergreen Siteworks told us it's all about what you make it. He likes BuildWitt Training because it gives him "100% freedom."
He explained, "As hard as I want to work, I can make it work for me. You know, the only limitation on BuildWitt is what I want to put into it. . . And if I'm willing to do the work, then it's easy to get it into the guys' hands."
Then he added, "We're not trying to just do it to do it, but eventually, we hope that our evergreen library competes with the amount of data that's in the BuildWitt library."
05
You're growing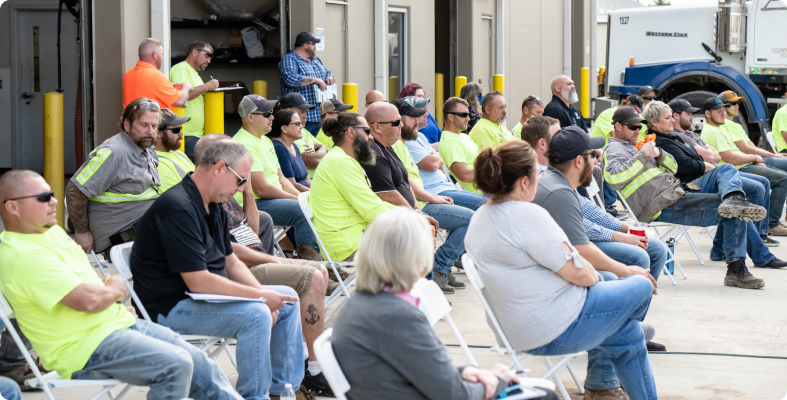 Dragonfly Pond Works is a small company, but they're growing like crazy. And growth creates new challenges.
Mickey explains, "Once you get to 50 employees, you have so many more things to touch on. You have . . . more boots on the ground, more trucks on the road, and you have more people to manage. I feel like at that point, that's where the rubber hits the road."
Nick agrees. When he thinks about scaling Kingsway, he thinks about people: "We need people to do that. And anybody who can win people will win the work. They'll get the jobs . . . so the more we can capture now, the faster we're going to be able to scale and the safer we're going to be able to scale."
He believes BuildWitt Training will help Kingsway grow because "it's going to create a central system for documenting our why and our how." And that central system creates consistency and structure on which to build.
But it isn't just about growing your company.
Helping your people grow
As Travis from Birnam Excavating puts it, "The main thing with this program is just being able to have that internal growth within the company: improve health and safety, improve training, improve retention. I think that all comes from giving more knowledge to our employees."
That's a big reason Geotex invested in BuildWitt Training. "With us being employee-owned . . . we want them to be here for the long haul. They're helping build this up. It's theirs," Ryan says. He continues, "We invest in our people. And the better they do their jobs, the more money we make in theory."
BuildWitt Training helps companies like Geotex, Birnam, Dragonfly, and over 150 others make those investments in their people. With over 600 preloaded lessons in the content library, there's something for everyone. You'll get access to things like:
Safety courses that are crucial for new hires and current employees

Leadership training to build up your next generation of supervisors

Task-specific training to help crew members in all roles perform their best
Plus, the easy-to-use admin features make it simple to assign training and track your employees' progress. It's a great tool to have if you're somebody whowants people to be continuously growing, evolving, hungry for more.
Takeaways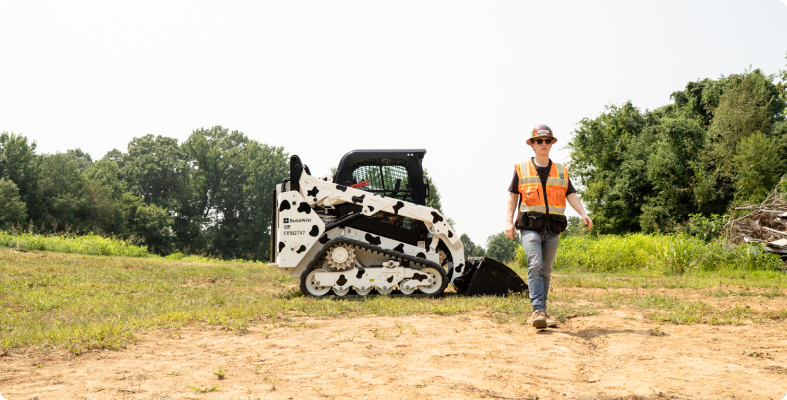 That's a lot of info to take in, so let's dial it back to the basics. These are the top five reasons your peers use BuildWitt Training to solve some of their workforce challenges:
They can train teams that are spread out—without traveling.
They can build up the next generation of leaders.
They can see who's hungry to grow and encourage crew members to take ownership of their learning.
They can store and share their way of working in one place.
They can train growing teams.
If you're struggling with any of the same problems these companies faced, BuildWitt Training may be the right solution for you, too. To get a better idea, you can watch a demo or chat with one of our sales reps.
Explore BuildWitt Training
Onion: BuildWitt Training Aware
Location: Training Hub
Funnel Step: Close
Big 5: Reviews
BW Solution: Training
Topic: Reviews
Category: BuildWitt Training
Subcategory: Training Software
Reviews
BuildWitt Training
Training Software
Give your team members a clear path to succeed and watch them grow
Join the thousands of Dirt pros who get our top workforce development tips.