How BuildWitt Training Makes Jobsites Safer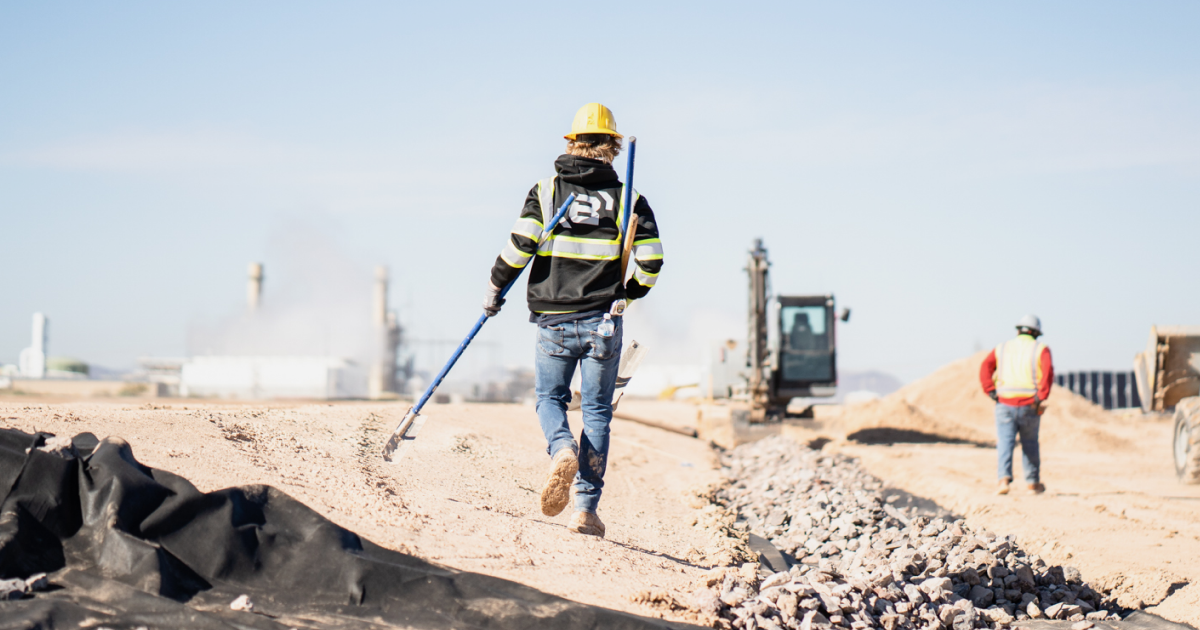 You may have already read our ten tips you can use to make your jobsites safer. However, there's one more way to improve jobsite safety: BuildWitt Training.
This simple-to-use software offers real-world construction training for crew members in all roles and all experience levels. The engaging video lessons make safety training enjoyable and easy to understand.
Let's walk through some of the BuildWitt Training features that help improve jobsite safety, so you can better understand whether this training software is right for your crew.
Safety course
Safety training doesn't have to be boring. It shouldn't be! We filmed our safety training videos in the field with real Dirt World pros who tell it like it is. Most lessons are less than five minutes long to keep your crew members engaged and help them retain what they learned.
Our safety course is geared toward rookies who are new to the industry and have a lot to learn fast. That said, it's also an excellent refresher for experienced employees to brush up on their jobsite safety skills.
During this course, crew members will learn about topics like:
PPE
Safety basics
Fire safety basics
Safe communication
Understanding their surroundings
Taking care of themselves on the job
Want to see what a typical safety training video looks like? You can check out lessons from this course for free.
Job-specific courses
Every construction job has its own unique safety concepts that people in other roles just don't have to think about. For example, operators must do daily machine walkarounds, while laborers must stay visible and act as spotters.
BuildWitt Training provides job-specific courses for laborers, grade checkers, pipelayers, and operators to help them learn how to perform their particular roles well. That includes staying safe.
We also created a field supervisor course that helps leaders learn how to handle all the day-to-day tasks of their job and how to keep their crews safe.
Each course includes dozens of lessons for that specific job. And since we're constantly expanding our video library, your crew members can get more advanced training as they grow in their careers.
Leadership course
BuildWitt Training comes with a leadership course designed to be accessible for people at all levels of leadership, from foremen to project managers to business owners.
This course is also great for aspiring leaders. So if you've got a laborer looking to build a lifelong career and move up in the industry, they can start here. They'll get the skills they need to go from being an employee to being a leader.
With the leadership course, your team will access more than 100 lessons from industry and leadership experts Jocko Willink, Jason Schroeder, Jay Collup, Bryan Peters, and Wally Adamchik.
Use these lessons to help your employees level up and learn skills like how to communicate effectively, deal with change, manage their time, make financial decisions, and so much more.
Turnkey onboarding
You can introduce new hires to the industry, their role, safety basics, and leadership principles using the courses in BuildWitt Training.
This plug-and-play training is super simple to use. Admins can quickly and easily add new hires and give them login info. From there, new hires simply download the app and start watching the training videos you assign them. (Safety should always be among their first assignments.)
Want to add your custom content? You can do that too! We designed BuildWitt Training to supplement how you already train—rather than replace it. You can use the software to upload your own videos, quizzes, and assignments to teach new hires everything they need to know about working for your company.
Easy administration
BuildWitt Training gives you tons of flexibility to assign courses to the right people at the right time in the right way.
By role or group: You can assign different training videos to other groups or roles so everyone gets the information that's most relevant to them.
By setting: You can assign a single training video for crews to complete before a toolbox talk or safety stand down or multiple courses in preparation for an all-hands meeting. You can even gather your crew in a classroom and have them complete the training together.
BuildWitt Training is designed for your crew to be able to use it anywhere, any time. So whenever or wherever you want them to train, they can do it all in the BuildWitt Training app.
Interested in trying BuildWitt Training for yourself? You can access over 50 free lessons for you and your team—no cost, no commitment—just a taste of the training you want.