How Do I Implement BuildWitt Training?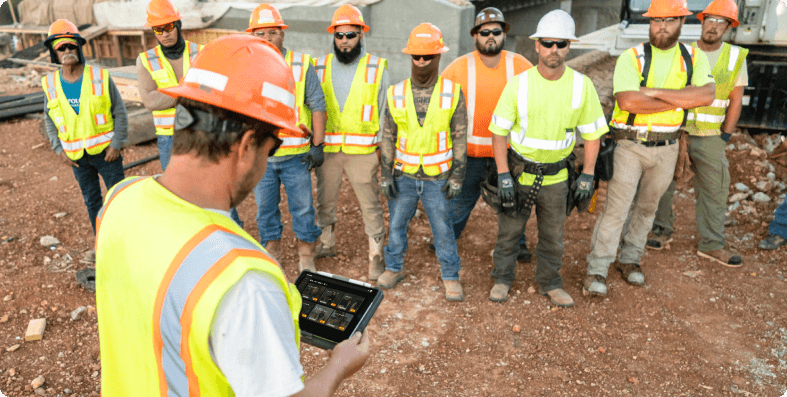 We gotta be honest: we're not fans of the word implementation. It sounds like a big, scary process that takes months. Talk about intimidating!
Thankfully, that's not what implementation is like with BuildWitt Training.
You can get BuildWitt Training up and running in as little as two days. Here's how it works:
Become a customer
Meet with Customer Success
Do a soft rollout to your team
Follow up with Customer Success
Fully deploy BuildWitt Training
Receive ongoing support
1. Become a customer
Once you sign your customer agreement, our Customer Success team gets notified that you're a new customer.
Your designated Customer Success Manager (CSM for short) will reach out to you within two to four hours. They'll get you access to log into BuildWitt Training for the first time, along with instructions on how to do that.
They'll also schedule your first implementation meeting.
2. Meet with Customer Success
Your first meeting with Customer Success will take approximately 45 minutes to an hour. It will have three goals: get to know each other, set expectations, and walk through the software.
Get to know each other

It's important to get to know your CSM, and vice versa! They'll start the meeting with a few questions to help build your relationship.
You can expect them to ask things like:
How long have you been at the company?
What do you do specifically?
What types of work does your company do?
Do you have any exciting projects coming up?
It may seem simple, but your answers will give them a better understanding of how they can help you make the most of BuildWitt Training for your organization.
Set expectations

Next, your CSM will talk about your expectations for BuildWitt Training. That includes things like your timeline for getting the software into your team's hands and what success will look like when they have it.
The answers to those questions help determine how fast implementation happens.
Typically, smaller companies get BuildWitt Training into their teams' hands faster than larger companies. But the fact is you can roll BuildWitt Training out at pretty much any speed you want—regardless of size.
Walk through the software

Finally, your CSM will give you a full walkthrough of the platform. You'll get an in-depth look at how everything works—like how to assign training and track your team's progress.
Plus, you can ask questions as you go. So if there's anything you're unsure about or that sounds confusing, you can address it before you roll BuildWitt Training out to your team.
3. Do a soft rollout to your team
Many of our larger customers like to roll BuildWitt Training out to three to five leaders before giving the whole team access.
Those leaders can get the hang of the software and see the value of it. That way, they're prepared and pumped to help the rest of the team adopt the software over the next few weeks.
Companies with 20+ user licenses also tend to use the soft rollout method because it gives them time to think about how they'll navigate training. For example, how will they tell their people about it? Which leaders will they ask to assign and track training for the rest of the crew? And so on.
Smaller companies with five to 15 users often skip the soft rollout, invite all their people to BuildWitt Training during the first week, and figure it out as they go.
Get tips and tricks for onboarding a small business with BuildWitt Training.
Get advice for onboarding a mid-market or enterprise business with BuildWitt Training.
4. Follow up with Customer Success
Your follow-up meeting will take around 30-45 minutes, and most customers schedule it one to two weeks after their first meeting.
In the follow-up, you'll get to share any feedback or questions you have since the first meeting. You'll also get to go over your timeline and rollout plan again, now that you've had a chance to interact with the software more.
Your CSM will chat with you about how you want to use the platform for your company and how you want your people to engage with it. They'll help you create a plan that's tailored to your specific goals.
5. Fully deploy BuildWitt Training
Deployment is when you invite your team members to start using most or all of the user licenses you bought.
Now's the time to hype up the software and encourage engagement! Invite your people to BuildWitt Training with a simple text notification, get them to log in, and let them start learning.
If you've already invited the whole team, you can skip this step and head straight into training.
6. Receive ongoing support
Once you're done with implementation, we won't leave you hanging. Your CSM will be available every step of the way to give you ongoing support.
Here are just a few of the ways they'll help you out post-implementation:
Technical support
Continued training on how to use the platform
Training on new features when they come out
Tips to get the team to log in and engage
Help planning your training strategy
Guidance based on what's working for other customers
Whatever you need, your CSM will be happy to help. They'll partner with you to make sure you get the most out of BuildWitt Training.
Ready to take the next step? Set up a live demo!
During the live demo, you'll get a personalized walkthrough of BuildWitt Training so you can see how you can use it for your team. Plus, you'll get access for you and up to four team members to try BuildWitt Training for free.
Onion: BuildWitt Training Aware
Location: Training Hub
Funnel Step: Convert
BW Solution: Training
Big 5: Best Of/Best Ways to Win
Category: BuildWitt Training
Topic: Implementation
Subcategory: Training Software
BuildWitt Training
Implementation
Training Software
Give your team members a clear path to succeed and watch them grow
Join the thousands of Dirt pros who get our top workforce development tips.