3
1
Learning Hub
3
2
Contractor Resources
3
3
6 Reasons BuildWitt Is Unique in Construction Marketing and Software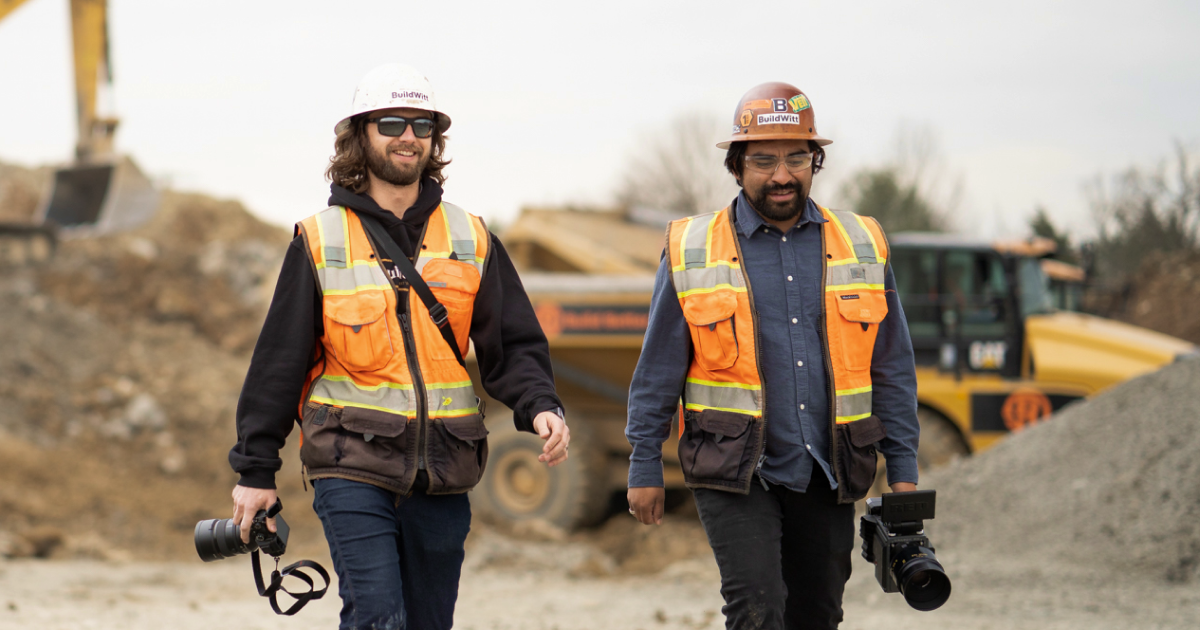 Some things are coming down the pipe no matter how you feel about hiring a marketing and software company to help your construction business. These include concerns like the hiring problem, the challenge of communication between older and younger generations, and the increasing price of materials and supplies.
But when it comes to how you grow your business, you very much do have a choice. In the noisy digital cacophony that pings for your attention, why choose BuildWitt to help you reach your goals?
At the beginning of something big with BuildWitt
Aaron Witt started BuildWitt because he saw a need for storytelling in a historic, but unassuming, industry. It was Witt's intuitive understanding that something big needed to happen in the world of heavy construction that catapulted a small group of people forward with the energy that now possesses the entire team at BuildWitt.
Now, much of the Dirt World is realizing that they need help. They need help communicating the importance and beauty of what they do to the next generation. While the task is daunting, it's also exciting. All of us who are connected to the industry are at the beginning of a movement. And what follows are the reasons you're better off at the beginning of this big thing, with BuildWitt.
Insight
We're not just the token kid-with-a-camera gallivanting around the world anymore. At BuildWitt, our teams have visited more jobsites in the last four years than any other organization, period. When we visit construction sites, we've got one ear to the ground and one finger on the shutter. Our photographers are snapping pictures and the ears of our storytellers are gathering more than anecdotes—they're listening for the industry's challenges, the major problems, and the tight squeezes that keep Dirt World companies from moving forward.
Access
The Dirt World may be hard to break into, but it's not a closed circuit. BuildWitt has been serving partners with all our heart and soul for years now, and our work is paying off. We've established relationships and connections with companies, organizations, and individuals from every corner of heavy construction.
Some of our partners include:
VEIT
Bemas
Goodfellow Bros.
Monroe
J.W. Fowler
Carter Cat
BERG
MILBURN
RAWSO
Midwest Services Group
Blount
DCA
Contour
Earthview
Muschlitz
Quality Enterprises
Sargent
Midwest Mole
Emory Sap and Sons
RCS
Scotty's
Witech
Southern Site
NACCO Industries
C.W. Matthews
Charley Toppino & Sons
In addition to our stellar group of partners and associates, we've been honored by the presence of generational leaders who are driving construction culture forward, and have joined us in that mission, like:
Dave Turin
Jocko Willink
Rich Diviney
Wally Adamchick
Marcus Sheridan
Randy Blount
Influence
For a lot of people in the Dirt World, social media isn't the highest priority. You're busy running a business, and posting stories, images, and captions isn't first nature. But even if you have no interest in mastering social media, you can no longer ignore its vital role in successful advertising and recruiting.
Why? Well, the internet just happens to be where the young people hang out. And those are the very young people that you need. So regardless of your preferences, getting your company into the public eye is of vital importance, and BuildWitt is a sure bet to help you do that with success.
We can back our claims with solid data, because we keep track of BuildWitt's visitors all across the world wide web. There's no arguing with numbers. Here's a rundown of our online stats:
Middle ground
"Middle" doesn't necessarily dazzle. But our "middle ground" position uniquely enables us to reach everyone in the Dirt World.
Since we're not a contractor, OEM, vendor, or association, we aren't your competition. We're your ally. And that means we can move quickly and strategically when it comes to solving problems and developing ideas.
Propelled by our mission to make the Dirt World a Better Place, we uniquely reduce conflict and eliminate the red tape that often prevents people from working together. As a team with a vision for lifting the Dirt World; we join partners, educators, associations, trade schools, contractors, unions, and vendors to build up the industry that we are all passionate about.
Momentum
Truth be told, there was a day five years ago when we (Aaron) couldn't rub together two pennies. Maybe every dream is born like that: in scrappy circumstances, struggling to meet a need that no one else has quite identified.
While we're still scrappy in our attitude and energy, the financial support is now with us. That momentum has come thanks to a Series Seed investment after more than four years in business. Randy Blount and Jonathan Campbell each invested $5MM in 2021, and we've successfully completed every milestone we've set along the way.
In addition to hitting our social media goals, we've launched the Dirt World learning hub, hit pre-sales goals for BuildWitt Training, released our first social app, and hired the number of people we targeted. We've developed our training content on schedule and we're hitting revenue goals even as this is being written. In other words, we're accelerating as we gain momentum.
With BuildWitt, you're not betting on a wing and a prayer; you're joining a team that knows the meaning of success, and is headed forcefully in that direction.
Our team
As you may have guessed from our Faculty and Investor lineup, we highly value leadership. That's why we didn't start building our team from the "bottom" up—we started with leaders.
No one's ever done what we've set out to do in quite this way, but every single person we've found to help us execute our vision has thorough experience in their previous field. We've taken those strands of intelligence, knowledge, and expertise, and created unique teams led by leaders who carry humility & an inclusive vision of what the Dirt World can be.
At 75+ team members and growing, we're still attracting top talent. Match that with the continuous, steady influx of partners from every walk of life who all share a passion for the industry, and you have an all-star, well-rounded team who can speak not only to those who are already in the Dirt World but to those who've never yet heard of it.
Why care about BuildWitt? Because everyone touching heavy construction is at the beginning of something big. This is the beginning of the world hearing the story of the people, machines, and places that keep our lights on and our kitchens warm.
If you're reading this, you've got a part to play in the Dirt World's "big something." And we're happy to take action right alongside you.

We're your ally in dirt.
Location: Learning Hub
Funnel Step: Convert
Big 5: Comparisons/Is it right for you?
Onion: Solution Aware
Big 5: Best Of/Best Ways to Win
BW Solution: Generic
Subcategory: Why BuildWitt
Category: Contractor Resources
Why BuildWitt
Contractor Resources
Meet the Expert
Marilee Brewer
Marilee Brewer's philosophy on heavy civil construction is that everything—even the Bingham Canyon Mine and the Willis Tower—starts with ideas put into words. An avid writer and researcher, Marilee brings inspiration, storytelling, and human candor to Dirt World information. Her writing focuses on providing content that enhances user experience, improves engagement, and ultimately increases revenue. A trained Linguist and social media storyteller, ask her for story and social media writing tips.
Join the thousands of Dirt pros who get our top workforce development tips.