3
1
Learning Hub
3
2
Contractor Resources
3
3
Who Does BuildWitt Work With?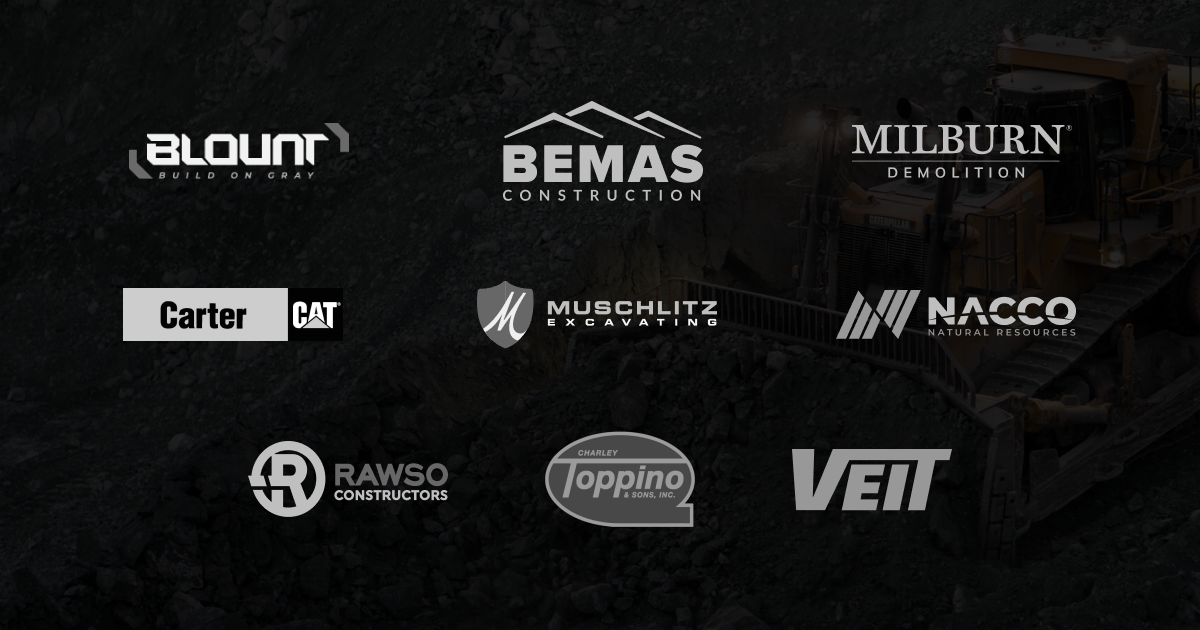 Whether you're a BuildWitt regular or just now visiting our website, you'll learn pretty quickly that we're very mission-driven. While having a single minded approach can be limiting at the outset, refusing to deviate from our mission to make the Dirt World better has helped define our path and identify those we can do business with.
While it all started with one kid's passion for heavy equipment, heavy equipment isn't the only unifying factor when it comes to who we work with. Read on to learn more about the Dirt World and the companies we partner with.
The Dirt World
Have you ever heard the term "Dirt World" before? If not, identifying what that means is a good place to start when it comes to understanding who we work with.
Defining dirt
The Dirt World is that sector of construction that goes out and down, but not necessarily up. Rather than vertical construction, which is what many people think of when they hear 'construction,' the Dirt World is focused on huge earth-moving projects and the creation and maintenance of systems that keep society supplied with gas, water, electricity, cable, and other necessities.
We've gone into great detail defining the Dirt World in our article What is the Dirt World, but here's a quick synopsis:
When we talk about the Dirt World, we're talking about construction that starts at the surface of the planet and goes down, across, or through. The Dirt World refers to the people who work there, the tools and equipment they use, and the bond they share.
…It's where the systems that support society are built and repaired.
A.K.A. heavy civil
Another way that people often refer to this industry is by calling it 'heavy civil construction.' Heavy civil construction contrasts with commercial construction because it revolves around municipal and government projects, as opposed to the public-and privately-held investments that commercial projects represent. Heavy civil construction projects include things like bridges, waterways, heavy industrial centers, dams, tunnels, and other systems that support society.
Our partners
As Dirt World companies, our partners stay busy year-round with intense, demanding projects.
Where they are located
From the Florida Keys to the Pacific Northwest, we have partners that are scattered all around the United States. Whether it's for one campaign or numerous projects spanning several years, we work with partners anywhere in the USA.
While our partners are only in the U.S., our connections span the globe. Tune in to Australia's Jimmy Starbuck on Dirt Talk or follow Aaron's YouTube channel as he chases adventure from Switzerland to Saudi Arabia for a taste of the global Dirt World community.
The type of work they do
Within the Dirt World, there are numerous different types of businesses. We love working with demolition experts like Milburn as much as we loved helping Veit Construction develop branding and marketing for their Disposal business. Our roster includes specialty deep-foundation and geotechnically skilled companies like Blount Contracting, as well as tunneling experts like J.W. Fowler. Some companies fulfill niche areas of need, like Midwest Services, who take care of America's pipeline. Others do it all, building on generations of experience and deep knowledge of their local geography, like Charley Toppino & Sons and Bemas Construction.
The one thing they all have in common
With an enormous variety of expertise and locations dotting the country, what's our litmus test for who we work with?
It's simple. We're mission-driven, and our partners are too.
As our services team puts it, "we work with all types and sizes of Dirt World companies, but they all have at least one thing in common. They believe in our mission of making the Dirt World a better place and seek to partner in the mission with us by improving their own business."
Conclusion
To sum it up, we work with companies in the Dirt World. But not just any companies; companies that care about their employees, and their work.
At BuildWitt, we've gone from a-kid-with-a-camera days to a 'scrappy team of four,' to where we are today: a budding 70-something-person startup with lots of challenges and numerous joys, figuring things out as we do them. We don't expect our partners to be any more perfect than we are, but we do expect them to be in pursuit of a better Dirt World, starting with themselves.
Location: Learning Hub
Funnel Step: Awareness
Big 5: Reviews
Onion: Solution Aware
BW Solution: Generic
Subcategory: Why BuildWitt
Category: Contractor Resources
Why BuildWitt
Contractor Resources
Meet the Expert
Marilee Brewer
Marilee Brewer's philosophy on heavy civil construction is that everything—even the Bingham Canyon Mine and the Willis Tower—starts with ideas put into words. An avid writer and researcher, Marilee brings inspiration, storytelling, and human candor to Dirt World information. Her writing focuses on providing content that enhances user experience, improves engagement, and ultimately increases revenue. A trained Linguist and social media storyteller, ask her for story and social media writing tips.
Join the thousands of Dirt pros who get our top workforce development tips.