Recruit from a bigger hiring pool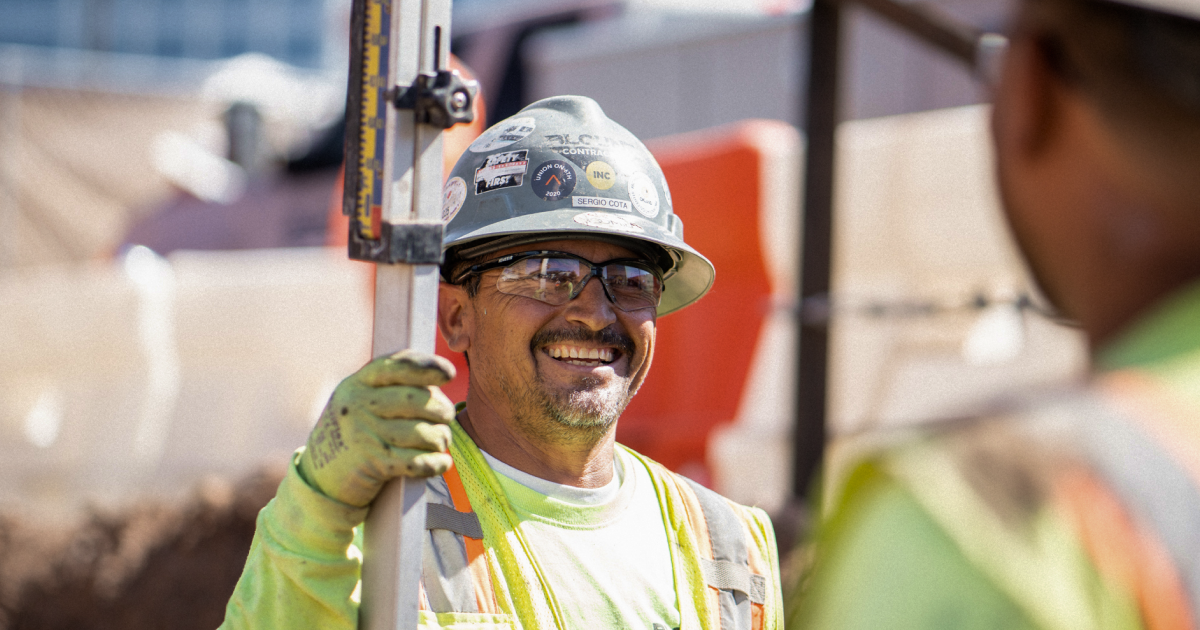 Everyone says that they hire for character and train for skill. But until now, only the biggest outfits could afford to turn construction civilians into successful construction workers.
Training is typically expensive. Suppose you're not ready to hire a field training supervisor, administrative staff, and an operations manager to oversee everything. In that case, you probably can't afford the risk of hiring—and relying on—people who don't have prior construction experience.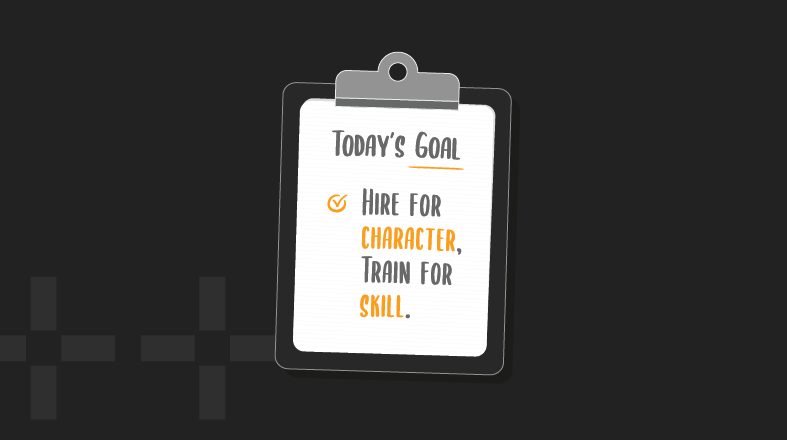 Not having the resources to train is a problem, especially heading into a busy season. The clock is ticking for projects waiting for the weather to dry out, and the work needs to be done before winter arrives. Don't have enough people on your crews? It could mean you can't bid the jobs you need to get ahead.
Even if you do risk bringing new people onto the field, you're worried about safety and productivity because they don't know the first thing about how to behave on a jobsite.
Expecting a foreman or operator to teach someone new while maintaining the construction schedule can be too big of an ask for your employee. It can damage morale by pulling on people without increasing their compensation. On top of that, their main projects may suffer.
Recruit confidently with BuildWitt Training
Our passion is to help solve problems in the construction industry—and we've heard from almost every business that people are where they are hurting the most.
BuildWitt isn't perfect, but we're unique: our primary focus is helping improve the entire industry by boosting culture, unifying teams, creating a training management system designed for the Dirt World, and spreading the word to a much broader audience that there are excellent, lucrative careers in the trades.
You can recruit from a bigger pool of job-seekers than you're currently accessing by considering all candidates, not just the ones with years of experience when you have a training management system in place.
Let's look at a few of the statistics around construction and workers and then get into how BuildWitt Training can help you take people from "blank slate" to "confident employees" without adding pressure to your team.
How many eligible candidates are there?
There are an estimated 7.7 million people employed in the construction industry.1 That makes up over 5% of our nation's workforce—no small portion. With roughly 3.2 million students graduating from high school each year, warm bodies aren't in short supply.2 So, where's the disconnect? If there aren't enough people getting into construction to fill the gaps created by retirees, what needs to happen?
There are two things the industry needs to do in order to get a larger workforce:
Young people must learn about the trades as great options after high school. Many schools no longer include shop classes (or similar classes) as a required part of the student curriculum. For some parents of high schoolers, the construction world bears a negative, outdated image.

A tool that can train new people while current employees keep working on the jobsite.
To initially help solve the people problem, the BuildWitt team focused on reaching the younger generation with social media and branding.
But after learning the industry's deeper needs, we're taking things a step further. We're building a training platform to enable your business to grow without going bankrupt.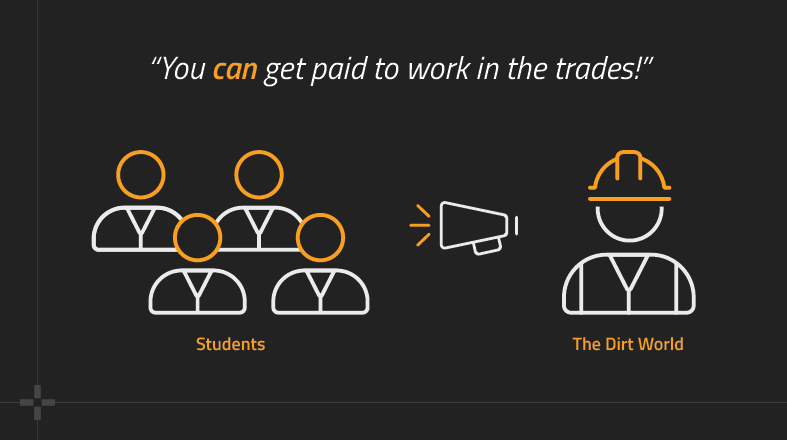 You can't leverage existing skills without training
High school students may be the future of construction, but they certainly aren't the only people in search of employment.3 Job-seekers entering construction may be in the middle of a career change after years of already developing their character and work ethic elsewhere.
These people have valuable skills that you want in the field–like leadership, communication, and organization. But if you don't have a training program in place to teach them essential jobsite skills, they'll just go work for another outfit, and you'll miss out.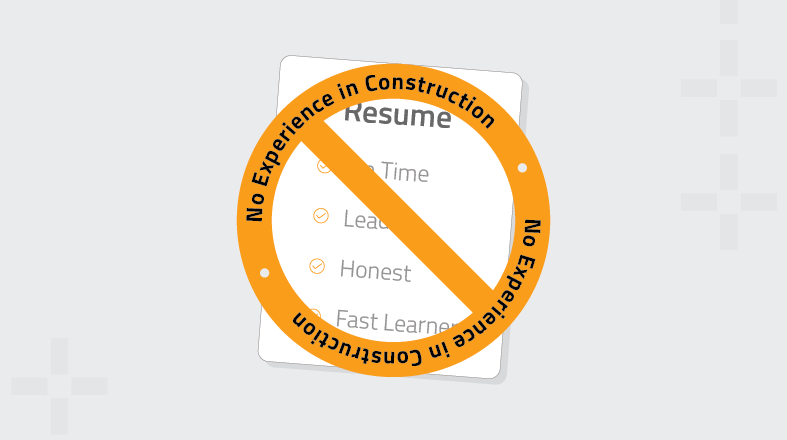 How does BuildWitt Training help?
The education people receive through BuildWitt Training has more than one benefit. Here are a few:
Offers basic skills training
Communicates key aspects of construction culture
Makes communication better in the field
Helps with potential career paths
Includes timeless leadership principles
The lessons range from an introduction to jobsite basics to practical lessons for operators, like how to do walkarounds before operating equipment. Numerous safety lessons apply to all skill levels. We also provide in-depth leadership training from the sharpest minds in the industry, like Randy Blount and Wally Adamchick.
Hands-on, role-based lessons combined with leadership training can teach your newest and youngest that they can have a long, rewarding career in construction, no matter where they start. Providing your industry converts with the basics on the field and notes on culture from pros like Dave Turin means that you can immediately begin to leverage their existing skills, even as they learn the ropes in a new industry.
You can utilize the modules in a classroom setting or during morning JSAs and toolbox talks. Sharing BuildWitt Training in a group setting means you can show the content to more of your team members and quickly get people up to speed (even those with no experience in the industry). By going through BuildWitt Training together, you also strengthen the camaraderie of your team because they're all learning (or getting a refresher) on the same topic at the same time. Clear, repeatable training provides old and new workers with mutual reference points and shared language for their tasks.
Reach more job-seekers with BuildWitt Training
Maybe by now, you've decided that BuildWitt Training isn't the right option. That's okay! But if you choose to get started, you'll have access to hundreds of customizable classes to turn even the most inexperienced hand into a reliable, safe team member.
No more skeleton crews, impossibly late nights, and unremitting weekends (with time, this isn't a light switch you're flipping). Not only does BuildWitt Training provide relevant construction training, but we also strive to create a positive, upbeat construction culture that invites all people—with all levels of skill—to join. It's all a part of the BuildWitt Training platform. We've designed it for everyone from any walk of life.
We make the idea of "hiring for character and training for skill" possible—by bringing valuable training to companies that don't break the bank. Check out a few classes and get in touch!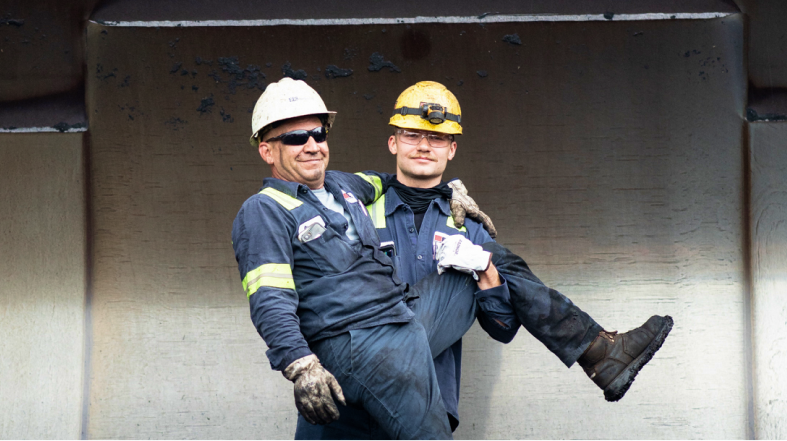 Problems It Solves
Onion: BuildWitt Training Aware
Location: Training Hub
Funnel Step: Convert
Big 5: Problems/Problems we Solve
Subcategory: Recruiting
Symptom: High turnover
Category: Investing in Your People
BW Solution: Training
Problems It Solves
Recruiting
Investing in Your People